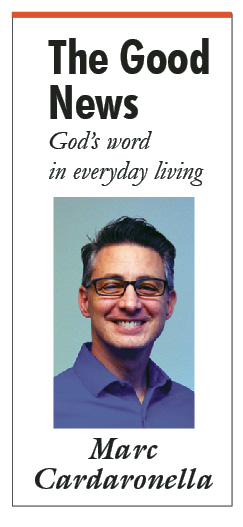 You can learn a lot about God from gardening.
This week's gospel is John 15:1-8. Here Jesus refers to himself as the "true vine" and God the Father as the "vinedresser." The tricky part is Jesus talks about pruning. Every vinedresser or gardener prunes. It's essential to keep things growing right. Now I don't know about you, but I'm not always so eager to get pruned. Sometimes it hurts. However, I know from my gardening lessons that pruning is a good thing for the fruit-bearer…and God wants us to bear fruit! So, let me share a few insights from my meager backyard gardening experience to shed light on the way God thinks and operates.
I was never a gardener, but my first house came with a lot of landscaping. I wanted it to stay looking nice, so I learned how to garden. It was a steep learning curve to maintain all that greenery, but I figured it out.
My first challenge was caring for apple trees. I had two large ones in the backyard. They were beautiful in the spring. I loved watching all those white blossoms turn into tiny apples and form little fruity clusters. I thought, the more apples that better, right? Keep them all bunched together. If you know anything about fruit trees, you know how wrong I was. When you have too many apples on the same branch, they can't get enough nutrients to grow. They will stay small and won't taste good. You must prune away the bad ones so the best apples can get better.
Another interesting revelation was trees need help with their branches. Sometimes there's too many or they grow in crazy directions. If they face straight up, they don't grow fruit. When they cross each other, the contact can cause rotten spots. And, some branches are duds. They don't produce fruit. As the gardener, you must remove the ones that don't bear fruit so the good ones can make more.
The other lesson I learned was about vines. They also grow crazy and need pruning. However, there is no good use for a vine after you cut it off. You can do other things with tree branches. You can use them to prop up flowers, make a stake for tomatoes, or maybe even craft a little fence. But vines…they are useless. Once they're cut away, the only thing you can do is throw them away.
The vine metaphor highlights our union with Jesus and how we should rely on him for life and growth. Like trees, we grow in all kinds of crazy ways and not always in the right directions. We need a gardener to manage our branches. God the Father trims away our selfish tendencies through disciplines and trials. These work to increase our love and attitude of self-giving. God wants us to bear fruit, not only for his sake, but for ours. Apostolic work in the "vineyard" is essential for every Christian's spiritual growth.
There's also a warning here. As Christians, we should bear fruit. Our connection to the vine (Jesus) gives us life, but also involves us in his mission. The vinedresser (the Father) must remove the fruitless branches from the vine (Jesus) to enliven the productive branches (missionary disciples) to become even more fruitful. God could prune those who don't embrace their missionary calling to make room for others who will. Since the vinedresser throws pruned branches into the fire, there's the implication that not being fruitful could lead to bad things in a bad place. At the least, we can assume the result is a less than fulfilling life.
One final thought. Verse 5 says, "I am the vine, you are the branches. He who abides in me, and I in him, he it is that bears much fruit, for apart from me you can do nothing." We need to get this verse in our heads. What can you do without Jesus? Nothing. What does nothing mean? Not something. Not a little thing. No. Thing. Branches don't even live when they're cut off from the rest of the tree.
We need to consider our connection to Christ as vital. Not just in our spiritual lives, but in every aspect of our lives. Baptism is not just a thing that happened to you once upon a time. It links you to Christ. Faith is not just believing Jesus is God. It's placing him at the center of your life and basing all your decisions, actions, and motivations on moving closer to him. Being Christian is making Jesus the fundamental direction your life is going.
Are you connected to Jesus? I mean really connected? Receive his grace like the life-giving sap that runs through a tree. Lean on him in prayer for guidance and support. In verse 15:7 Jesus says if you "abide" in him and his "words abide in you," then you can "ask whatever you will, and it shall be done for you." That's a great promise to rely on.
Marc Cardaronella is Director of the Office of Catechesis and Faith Formation.
Daily Scripture Readings
For complete daily Scripture texts, click here. http://www.usccb.org
Monday, April 30
Acts 14:5-18
Psalms 115:1-2, 3-4, 15-16
John 14:21-26
Tuesday, May 1
Acts 14:19-28
Psalms 145:10-11, 12-13ab, 21
John 14:27-31a
Wednesday, May 2
Acts 15:1-6
Psalms 122:1-2, 3-4ab, 4cd-5
John 15:1-8
Thursday, May 3
1 Corinthians 15:1-8
Psalms 19:2-3, 4-5
John 14:6-14
Friday, May 4
Acts 15:22-31
Psalms 57:8-9, 10 & 12
John 15:12-17
Saturday, May 5
Acts 16:1-10
Psalms 100:1b-2, 3, 5
John 15:18-21
Sixth Sunday of Easter, May 6
Acts 10:25-26, 34-35, 44-48
Psalms 98:1, 2-3, 3-4
1 John 4:7-10
John 15:9-17
Monday, May 7
Acts 16:11-15
Psalms 149:1b-2, 3-4, 5-6a & 9b
John 15:26—16:4a
Tuesday, May 8
Acts 16:22-34
Psalms 138:1-2ab, 2cde-3, 7c-8
John 16:5-11
Wednesday, May 9
Acts 17:15, 22—18:1
Psalms 148:1-2, 11-12, 13, 14
John 16:12-15
Thursday, May 10
Acts 18:1-8
Psalms 98:1, 2-3ab, 3cd-4
John 16:16-20
Friday, May 11
Acts 18:9-18
Psalms 47:2-3, 4-5, 6-7
John 16:20-23
Saturday, May 12
Acts 18:23-28
Psalms 47:2-3, 8-9, 10
John 16:23b-28
The Ascension of the Lord
Sunday, May 13
Acts 1:1-11
Psalms 47:2-3, 6-7, 8-9
Ephesians 1:17-23
or Ephesians 4:1-13
Mark 16:15-20