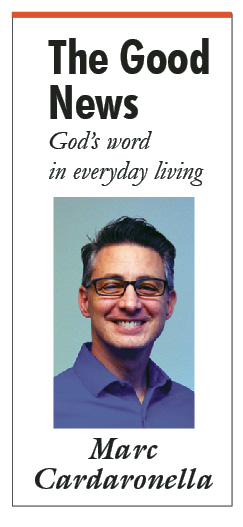 What one thing is every Catholic called to do?
Talk to ten people and you'll get ten different answers ranging from feeding the poor to attending Mass every Sunday.
But if you want the real answer, look no further than this week's gospel.
"And Jesus came and said to them, all authority in heaven and on earth has been given to me. Go therefore and make disciples of all nations, baptizing them in the name of the Father and of the Son and of the Holy Spirit, teaching them to observe all that I have commanded you…" (Matthew 28:18-20).
Go and make disciples. This is the essential mission of the Church and of every Christian. It even has a name. It's called the Great Commission. These words fueled the apostle's journeys, launched missionaries by the thousands, and spread the Christian faith across the globe.
Sometimes this zeal for Christian replication creates distance in people outside the Church. Keeping religion a private affair is a virtue in today's culture. Because of this, talking about your faith with others is difficult and often uncomfortable. So why is the Church so adamant about us spiritually reproducing ourselves?
Baptism creates a unique and intimate bond with Jesus. The union is so close, we're described as being part of Christ's own Body. In fact, not just his Mystical Body, but his mind and heart. Who does Christ have a heart for? The lost. Those people outside of God's love. Therefore, our connection with Christ obliges us to work at connecting more people to him.
What's extraordinary and unique about this passage is it contains not only the marching orders, but the blueprint for getting them done. Jesus tells us to make disciples (evangelize), baptize them (sacramentalize), then teach them (catechize). This three-part structure, in that order, is how the ancient Church converted the known world. If you do a careful study of the gospels, you'll see how Jesus used this structure in his ministry to the apostles. If you do the same study in the Book of Acts, you'll also see how the apostles, and St. Paul, used it to establish the first-century Church. However, somewhere along the way things got turned around.
The practice of initiation in the Church today is different. We baptize children as infants (sacramentalize), then teach them about the faith in religious education classes through the primary grades (catechize). However, we never evangelize…at least, not intentionally. Often kids get evangelized, but not because that component is part of the system like the other two. This is critical.
Here's the common assumption – Simply learning about Catholicism evangelizes people. The problem is first they must be interested enough to listen. As anyone involved in parish adult faith formation will tell you, it's easy to set up a class on the Catholic Faith. Getting them to attend is hard.
Evangelization is about meeting people, befriending them, and helping them. It happens within the context of relationships and understanding people's needs. Through conversation, an evangelist can help others see how God heals the wounds life inflicts. The evangelist can open people to new life possibilities through the power of Jesus and the Holy Spirit.
Disciples don't just learn about Jesus, they draw life from him. Discipleship is a choice to live life with Jesus at the center. Sacraments give power to think and act like Jesus. Catechesis will follow because disciples hunger to learn more about this way of life. When evangelization comes first, the process flows. The crisis in our Church is not one of catechesis, it's of authentic evangelization and discipleship.
The part of this passage I haven't mentioned yet is the imperative, "Go"! We're all called to go out and make disciples. Given what I said above, this isn't as difficult as it sounds. It's living life as normal but taking Christ with you. The culture makes it difficult to share your faith with others, but that's with strangers. Not friends. You share all kinds of things with friends. You often discuss problems and difficulties with them too. Next time you might suggest praying for them, or praying with them. Perhaps you know a comforting passage of Scripture to tell them. Maybe a deeper relationship with God is the real answer to their problem.
Of course, you must be convinced of this yourself. Reflect on this. Do you go to Jesus in prayer for answers to problems? Do you believe having a relationship with God is essential to a happy life? Do you lean on the Holy Spirit to guide you through difficult situations? Do you count on God's love to keep you fulfilled? If you're interested in learning more about how to become a more committed disciple of Jesus, how to get more from life through a relationship with God, or how to share your love of Jesus with others, the Office of Catechesis and Faith Formation at the diocese can help. Call us.
Marc Cardaronella is director of the Office of Catechesis and Faith Formation.
Daily Scripture Readings
For complete daily Scripture texts, click here: http://www.usccb.org
Monday, May 28
1 Peter 1:3-9
Psalms 111:1-2, 5-6, 9 & 10c
Mark 10:17-27
Tuesday, May 29
1 Peter 1:10-16
Psalms 98:1, 2-3ab, 3cd-4
Mark 10:28-31
Wednesday, May 30
1 Peter 1:18-25
Psalms 147:12-13, 14-15, 19-20
Mark 10:32-45
Thursday, May 31
Zephaniah 3:14-18a
or Romans 12:9-16
Isaiah 12:2-3, 4bcd, 5-6
Luke 1:39-56
Friday, June 1
1 Peter 4:7-13
Psalms 96:10, 11-12, 13
Mark 11:11-26
Saturday, June 2
Jude 17, 20b-25
Psalms 63:2, 3-4, 5-6
Mark 11:27-33
Solemnity of the Most Holy Body and Blood of Christ, Sunday, June 3
Exodus 24:3-8
Psalms 116:12-13, 15-16, 17-18
Hebrews 9:11-15
Mark 14:12-16, 22-26
Monday, June 4
2 Peter 1:2-7
Psalms 91:1-2, 14-15b, 15c-16
Mark 12:1-12
Tuesday, June 5
2 Peter 3:12-15a, 17-18
Psalms 90:2, 3-4, 10, 14 & 16
Mark 12:13-17
Wednesday, June 6
2 Timothy 1:1-3, 6-12
Psalms 123:1b-2ab, 2cdef
Mark 12:18-27
Thursday, June 7
2 Timothy 2:8-15
Psalms 25:4-5ab, 8-9, 10 & 14
Mark 12:28-34
Solemnity of Most Sacred Heart of Jesus, Friday, June 8
Hosea 11:1, 3-4, 8c-9
Isaiah 12:2-3, 4, 5-6.
Ephesians 3:8-12, 14-19
John 19:31-37
Saturday, June 9
2 Timothy 4:1-8
Psalms 71:8-9, 14-15ab, 16-17, 22
Luke 2:41-51
Tenth Sunday in Ordinary Time, Sunday, June 10
Genesis 3:9-15
Psalms 130:1-2, 3-4, 5-6, 7-8
2 Corinthians 4:13—5:1
Mark 3:20-35