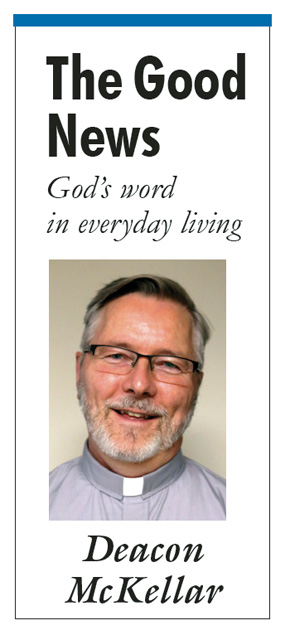 We all believe in things we cannot see. The wind is the most obvious example, but love is also in this category. In the Nicene Creed we confess that God the Father is "maker of heaven and earth, of all things visible and invisible." The universe which God created has both visible and invisible realms.
In our Gospel reading today, Jesus describes the unseen world in terms of two unequal kingdoms. The kingdom of God and a rival 'kingdom' of Satan. The kingdom of God is manifest through the presence of the Holy Spirit which drives out Satan.
In our second reading, St. Paul also wrestles with what is seen and unseen. Both St. Paul and the Corinthian community had experienced a great deal of suffering, persecution, and rejection. The entire letter is a response to the experience of God's consolation in the midst of affliction. The grace of this consolation enables the Corinthians to console others in affliction with the very consolation with which God has consoled them (2 Corinthians 1:4).
Afflictions are a type of crucible. If we draw near to God in the midst of them, and surround ourselves with other faithful Christians, we will receive the grace of consolation, and we will become ministers of God's grace to others. If we are far from God and surround ourselves with unbelieving friends, we will become distracted and discouraged by these same afflictions.
Paul is able to turn these afflictions into spiritual benefits. He writes, "Therefore, we are not discouraged; rather, although our outer self is wasting away, our inner self is being renewed day by day" (2 Corinthians 4:16).
The renewal of our inner self takes place through personal prayer which cultivates our relationship with God, and through the frequent reception of the Sacraments (if we come properly disposed to receive these graces).
The point is not to act as though this is a magical process that spares us from pain. Many of us will experience prolonged illness, grief at the loss of a loved one, a painful betrayal, emotional scars from abusive treatment, or even the ever-present juggernaut of old age and death. Christ will not spare us this pain but will accompany us through the pain and teach us to find hope and forgiveness.
Does Paul contradict this by what he says next?
He notes, "For this momentary light affliction is producing for us an eternal weight of glory beyond all comparison, as we look not to what is seen but to what is unseen; for what is seen is transitory, but what is unseen is eternal." (2 Corinthians 4:17-18)
By referring to "this momentary light affliction" is Paul failing to understand the depths of human suffering? Later in this same letter, for the sake of argument, Paul lists his many trials and afflictions. Paul gives a paragraph long list of beatings and imprisonments that he suffered for the faith. (2 Corinthians 11:23-27).
Very few will suffer as much as he did. While Paul is well acquainted with suffering, he counts this pain as "momentary light afflictions" when compared to the eternal weight of glory which follows in Heaven for those whom God has prepared it.
The unusual expression eternal weight of glory may come from the Hebrew word for glory (kabod) whose root meaning was 'heaviness.' In this context the word implies, a weighty thing that promotes pleasure instead of discomfort.
Any talk of receiving a reward of heavenly glory makes some people uncomfortable.
First, we might mention those with an overdrawn sense of modern equality who think that we will all be equal in heaven. Feeding off modern ideology, they envision a 'couch potato' mediocre Christian being rewarded equally with a martyr. True they may both receive the reward of heaven, but both scripture and the traditional teaching of the Church, do not talk of rewarding everyone equally in heaven (compare 1 Cor 3:15 with Revelation 6:9).
We might also imagine someone for whom the talk of rewards leads to thoughts of false motives. For example, someone who marries someone to gain access to their money. The weakest kind of contrition would be to act out of the fear of hell, rather than out of love.
We must remember that we are created for heaven. God has created us for happiness with a hunger for beauty and truth. There is no false motive necessary in our desire for heaven. If a man marries for love and happens to find someone who is wealthy, this extra reward does not automatically taint this love.
Someone might suggest that a reward of glory sounds impious because we are seeking some kind of fame or good report from others. How can this kind of desire escape entanglement with self-seeking motives? Yet we remember Jesus' parable which ends, "Well done my good and faithful servant" (Matthew 25:21, 23).
It is not the praise of men which we seek but the praise of God. Jesus urges us to become like little children (Matthew 18:3). An innocent child shows no lack of humility when she seeks the praise of her Father.
C. S. Lewis complains about this "in my own experience, the lawful pleasure of praise from those whom it was my duty to please turns into the deadly poison of self-admiration" (The Weight of Glory). Yet he notes that the redeemed soul may at last be free of these thoughts and be capable of innocently rejoicing in that thing God has made us to be. He notes, perfect humility dispenses with modesty.
St. Thérèse of Lisieux once wrote, 'You know well enough that Our Lord does not look so much at the greatness of our actions, nor even at their difficulty, but at the love with which we do them."
Imagine what would happen in our communities this week if each of us sought to put Jesus at the center of all our actions. Let us seek to find the presence of his love in all our works.
Deacon Scott McKellar is pastoral associate at St. Therese Parish North.
Daily Scripture Readings
For complete daily Scripture texts, click here: http://www.usccb.org
Monday, May 28
Acts 11:21b-26; 12:1-3
Psalms 98:1, 2-3ab, 3cd-4, 5-6
Matthew 5:1-12
Tuesday, June 12
1 Kings 17:7-16
Psalms 4:2-3, 4-5, 7b-8
Matthew 5:13-16
Wednesday, June 13
1 Kings 18:20-39
Psalms 16:1b-2ab, 4, 5ab & 8, 11
Matthew 5:17-19
Thursday, June 14
1 Kings 18:41-46
Psalms 65:10, 11, 12-13
Matthew 5:20-26
Friday, June 15
1 Kings 19:9a, 11-16
Psalms 27:7-8a, 8b-9abc, 13-14
Matthew 5:27-32
Saturday, June 16
1 Kings 19:19-21
Psalms 16:1b-2a & 5, 7-8, 9-10
Matthew 5:33-37
Eleventh Sunday in Ordinary Time, June 17
Ezekiel 17:22-24
Psalms 92:2-3, 13-14, 15-16
2 Corinthians 5:6-10
Mark 4:26-34
Monday, June 18
1 Kings 21:1-16
Psalms 5:2-3ab, 4b-6a, 6b-7
Matthew 5:38-42
Tuesday, June 19
1 Kings 21:17-29
Psalms 51:3-4, 5-6ab, 11 & 16
Matthew 5:43-48
Wednesday, June 20
2 Kings 2:1, 6-14
Psalms 31:20, 21, 24
Matthew 6:1-6, 16-18
Thursday, June 21
Sirach 48:1-14
Psalms 97:1-2, 3-4, 5-6, 7
Matthew 6:7-15
Friday, June 22
2 Kings 11:1-4, 9-18, 20
Psalms 132:11, 12, 13-14, 17-18
Matthew 6:19-23
Saturday, June 23
2 Chronicles 24:17-25
Psalms 89:4-5, 29-30, 31-32, 33-34
Matthew 6:24-34
Solemnity of the Nativity of Saint John the Baptist,
Sunday, June 24
Isaiah 49:1-6
Psalms 139:1b-3, 13-14ab, 14c-15
Acts 13:22-26
Luke 1:57-66, 80