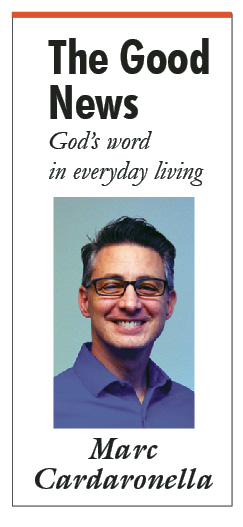 This week's gospel presents us with a crisis of faith and its resolution. The birth of John the Baptist occurs with some unusual circumstances. God intervenes to prepare John for his role as the Savior's forerunner, which in many ways proves too much for his father Zachariah to handle. However, Zechariah's ordeal provides a powerful lesson on trust, hope, and the attitude we should have as children of God.
This is the story of a birth that shouldn't be. Zachariah and his wife Elizabeth couldn't have kids, and they are beyond child-bearing age. Nevertheless, here we are. The back story to this passage isn't included in the reading, but it's vital to understanding the message. Nine months before this scene, the Angel Gabriel appeared to Zechariah and told him to get ready because he would have a son named John. I'm guessing Zechariah wasn't used to seeing angels or getting prophecies because he scoffs at the angel. He and his wife were, after all, barren.
Here's the first lesson. If you see an angel (and you're sure he's real), don't argue with him and tell him why he's wrong. Your job is to listen and allow his prophecy to happen. For his foolish lack of faith, Gabriel strikes Zechariah mute. He can't speak a word and he's like that for nine months…until John's birth.
Zechariah is a lot like someone else in the Bible who refuses to take unbelievable news at face value. The apostle Thomas won't accept that Jesus is alive. He needs proof. His response to that proof, the exclamation, "My Lord and my God," is one of the greatest proclamations of faith in history. The same goes for Zechariah. When he sees the prophecy come true, he's all in. His amazing proclamation (unfortunately omitted), is still recited in the Liturgy of the Hours today.
The second lesson is this: trust the messages you hear from God, or the trusted friends he puts in your life. God is here to help. The Book of Jeremiah has an amazing verse, "For surely I know the plans I have for you, says the Lord, plans for your welfare and not for harm, to give you a future with hope" (Jeremiah 29:11). God has a plan for your life. He wants to care for you not harm you. He promises a future full of hope. However, to get at that future, you must trust him. If you only trust yourself and your own plans, you'll likely miss what God has in store.
Perhaps your plans and God's plans are the same. God wants to fulfill your deepest desires when, of course, they coincide with your greatest good. However, sometimes it doesn't seem that way. Instead, you might think God doesn't want to give what you long for most. However, consider God might be using a roundabout way of getting to what will fulfill you…one you could never grasp without his help. Or, maybe you need to adjust your dreams a bit so they fit a relationship with him.
The Angel Gabriel will not appear with God's plans for me (at least, I'm pretty sure he won't), however, God guides us in many ways. Consider the following if you want your plans to include God's plan for your life.
When making life decisions, do you pray? This is the simplest thing and yet the most overlooked. I make a thousand decisions a day, but seldom do I ask God which one is best. Obviously, you can't pray about every decision. However, the important ones are different. If you're struggling with a big decision, you should pray.
How do you figure out what God is saying? Often during prayer, you get thoughts or inspirations. Also, identify the past decision-making processes that produced your best outcomes.
God likely speaks to you through those processes. Sometimes researching an idea brings results. Or, he might speak through friends. You're on the right track when a decision brings peace. God speaks through peace. When that bad feeling in the pit of your stomach shows up, you should consider something else.
The point is, watch with an open heart for signs that mark the way. Also, expect God to show up! That's another key lesson. You should hope in God's plan for your welfare! Zechariah's response probably wasn't an isolated case. Perhaps he spent his life closed off to the radical possibilities of God, and in this crucial moment he got bit. He couldn't imagine God making a way where there was no way.
These attitudes suppose two things: 1.) That you do have a prayer life and regularly talk to God. 2.) That you open yourself to the radical possibilities God could have planned for you. Many aren't comfortable with this. I understand. I struggle myself. And yet, stories like this compel me to push beyond my comfort zone. Also, as I experience the great things God can do, I gain more trust and confidence in his plans for me.
Don't be like Zechariah, or Thomas. Hope in God. He is the loving Father who knows how to give the best gifts to his children. Trust in him and receive those gifts.
Marc Cardaronella is director of the Office of Catechesis and Faith Formation.
Daily Scripture Readings
For complete daily Scripture texts, click here: http://www.usccb.org
Monday, June 25
2 Kings 17:5-8, 13-15a, 18
Psalms 60:3, 4-5, 12-13
Matthew 7:1-5
Tuesday, June 26
2 Kings 19:9b-11, 14-21, 31-35a, 36
Psalms 48:2-3ab, 3cd-4, 10-11
Matthew 7:6, 12-14
Wednesday, June 27
2 Kings 22:8-13; 23:1-3
Psalms 119:33, 34, 35, 36, 37, 40
Matthew 7:15-20
Memorial of St. Irenaeus, Bishop & Martyr
Thursday, June 28
2 Kings 24:8-17
Psalms 79:1b-2, 3-5, 8, 9
Matthew 7:21-29
Solemnity of Saints Peter and Paul, Friday, June 29
Acts 12:1-11
Psalms 34:2-3, 4-5, 6-7, 8-9
2 Timothy 4:6-8, 17-18
Matthew 16:13-19
Saturday, June 30
Lamentations 2:2, 10-14, 18-19
Psalms 74:1b-2, 3-5, 6-7, 20-21
Matthew 8:5-17
Thirteenth Sunday in Ordinary Time, July 1
Wisdom 1:13-15; 2:23-24
Psalms 30:2, 4, 5-6, 11, 12, 13
2 Corinthians 8:7, 9, 13-15
Mark 5:21-43
Monday, July 2
Amos 2:6-10, 13-16
Psalms 50:16bc-17, 18-19, 20-21, 22-23
Matthew 8:18-22
Feast of St. Thomas, Apostle
Tuesday, July 3
Ephesians 2:19-22
Psalms 117:1bc, 2
John 20:24-29
Wednesday, July 4
Amos 5:14-15, 21-24
Psalms 50:7, 8-9, 10-11, 12-13, 16bc-17
Matthew 8:28-34
Thursday, July 5
Amos 7:10-17
Psalms 19:8, 9, 10, 11
Matthew 9:1-8
Friday, July 6
Amos 8:4-6, 9-12
Psalms 119:2, 10, 20, 30, 40, 131
Matthew 9:9-13
Saturday, July 7
Amos 9:11-15
Psalms 85:9ab &10, 11-12, 13-14
Matthew 9:14-17
Fourteenth Sunday in Ordinary Time, July 8
Ezekiel 2:2-5
Psalms 123:1-2, 2, 3-4
2 Corinthians 12:7-10
Mark 6:1-6