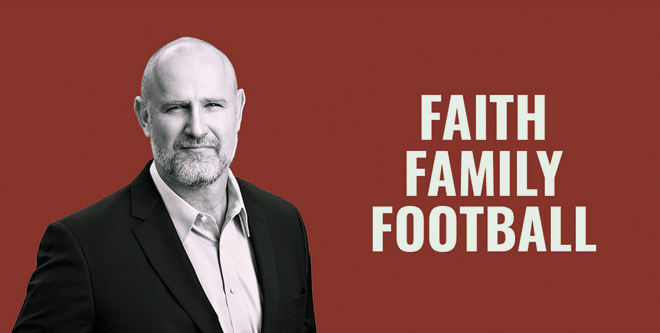 By Marty Denzer
Catholic Key Associate Editor
KANSAS CITY — OK, armchair quarterbacks: think back on watching years of pro football, especially the Kansas City Chiefs, and the quarterbacks. Can you recall their names? The Chiefs have had 33 quarterbacks in team history, going all the way back to their last season as the Dallas Texans. Len Dawson was the first KC Chiefs quarterback, and some of the others include Mike Livingston, Joe Montana, Warren Moon, Trent Green, Alex Smith and Elvis Grbac.
So, what are they doing now? Joe Montana lives in San Francisco, owns horses and produces wine under the label Montagia. Trent Green is a pro football color analyst for CBS Sports, Bill Kenney served as Missouri State senator from Lee's Summit and Kansas City for eight years after retiring, and Smith plays for the Washington Redskins as quarterback. Grbac, 47, is a motivational speaker, working toward a Master's degree in Theology at St. Mary's Seminary near Cleveland, and discerning whether he is called to the permanent diaconate. He's been approached by St. Ignatius all-boys High School to serve as chaplain and football coach, and is happily married to his high school sweetheart, Lauren, with two college-age children and one who just graduated from college.
After being traded to Kansas City by San Francisco following the 1996 season, Grbac was the Chiefs' starting quarterback from 1997-2000, playing in 49 games and starting 47. He is credited with 26 wins and 21 losses, a .553 average. He also ranks in the top five Chiefs quarterbacks for number of touchdowns. As of the 2017 season, he has the fifth most touchdowns with 66 passing and 2 rushing. He's up there with Dawson, Green, Kenney and Smith.
He has fond memories of Kansas City and the Midwest. "It was a great place for my kids when they were small," he said. He stays in contact with friends in Kansas City and Leawood, Kansas.
After finishing his pro career with a year playing for the Baltimore Ravens, Grbac retired in 2001 and, with his wife and three children moved back to the Cleveland area, where he and Lori grew up. They settled in Chagrin Falls.
"After I retired," Grbac said, "I wanted to be dad, I wanted to be around my kids. They were little and I wanted to be there as they grew. It was a happy time."
Being dad was awesome, but deep down, something was missing. Grbac, a cradle-Catholic, was raised in a close Croatian family who regularly attended Mass together at St. Felicitus, now St. John of the Cross, Church. Ivan and Cecilija Grbac fostered a deep love for Christ and Mary in their four children, Engelbert, Maria, Elvis and Barbara.
Grbac attended Catholic schools for both elementary and high school, playing basketball (a 3 – forward) and football (quarterback) at St. Joseph's High School, then attending the University of Michigan-Ann Arbor as a member of Coach Bo Schembechler's vaunted 1988 recruiting class. Red-shirted his freshman year, Grbac watched, listened and learned a lot. In 1990, he was named starting quarterback for Coach Gary Moeller, and under his leadership, the Michigan Wolverines team won a co-Big 10 championship that year.
The next season, 1991, Grbac was quarterback for teammate Desmond Howard's Heisman Trophy season. His future in pro football was looking certain, but first he graduated from the University of Michigan in 1993 with a degree in Communications.
He entered the draft in 1993 and was selected by the San Francisco 49ers. In 1994, he and Lori were married. Son Jack was born in 1996, in San Francisco. Elvis played for the team until the 1997 trade to Kansas City.
After four years with the Chiefs, he was signed by the Baltimore Ravens after the 2000 season, and in 2001, opted for early retirement. The Grbacs, Elvis, Lori, Jack, Calvin and Ella, moved back to Cleveland, Ohio.
As the children grew, he began to realize an incompleteness, something nagging at him. He remembered Easter morning in 1980, when he was 10 years old. He was dressed and ready for Mass, just waiting for his parents, brother and sisters to be ready. The family typically went downtown for Mass at St. Felicitus Church.
"I was sitting on my bed," he said, "staring at the crucifix hanging on the wall above it. On impulse, I pulled the crucifix off the wall, and just sat there for 15 to 20 minutes contemplating the cross and what Christ had done for me. Then my dad called me and it was time to go."
After a short silence, he continued. "Between high school and the pros, my faith lost its saltiness. Remember what Jesus said about salt? That when it loses its saltiness, it's no good for anything except being trampled underfoot. Well, that's the way it was for me, I put it aside during those years." But he added, as an adult, he realized that the Holy Spirit had come upon him that morning and he became very emotional as a result. "God has greater plans than I did. A seed had been planted that would come to fruition at a later date."
The difference between being a practicing Catholic and having a relationship with Christ is that everything becomes an encounter with God and his creation, Grbac said.
During Lent seven or eight years ago, he started going to morning Mass, and it got to be a habit. "I still go," he said, "it starts my day on the right track." Then in 2013, he attended a parish mission with Father Larry Richards, pastor of St. Joseph Church/Bread of Life Community in Erie, Penn., and popular speaker, and heard him "rant about confession." Grbac returned to confession, and began cultivating a relationship with Jesus and His mother.
A couple of years ago, he was in Washington, D.C., as Holy Week began. He attended Holy Thursday and Good Friday services and both times found himself contemplating Christ on the cross, just as he had as a 10-year-old. He heard himself say, "I love you, Lord, I really love you." Saying those words had deep, deep meaning, as he gave his life to God to work as he would.
His faith is salty again, and he shares it through motivational speaking across the country and with others he meets.
"Understanding all our faith is beyond our comprehension," Grbac admits, "but, through Mass we spend time with the Holy Spirit taking God out into his creation. Arriving 10 or 15 minutes early allows us to prepare ourselves for the experience of Mass and staying a few minutes afterwards gives us a chance to thank Christ for letting us be there."
As he continues to discern his call and commitment to the diaconate, he serves on the pastoral council at Holy Angels Parish and teaches youth catechesis.