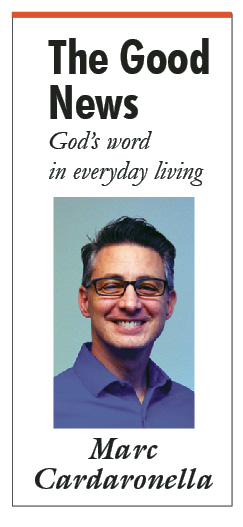 Ever wonder why some people believe and some don't? We've all been there. Perhaps it's a relative you meet up with at family gatherings. He just doesn't get why you believe in God and want to be Catholic…and continually challenges you on it. You try to explain. You lay out the teaching. You show him the Scriptural background. You explain the doctrine. Nothing works.
I see this all the time. Catholics who engage in long conversations and logical arguments, but it doesn't bear any fruit. People still don't believe.
In this article, I want to talk about a curious thing Jesus says about doubters and how that explains why you don't have any luck convincing Uncle Charlie to believe.
This week's gospel, John 6:41-51, continues the Bread of Life discourse. Fresh off the Feeding of the Five Thousand, the recipients of that miraculous meal continue to chase after Jesus. They realize he's something special. Perhaps he's a prophet equal to or even greater than Moses. However, their hearts are not in the right place. Jesus rebukes them saying, "you seek me, not because you saw signs, but because you ate your fill of the loaves" (John 6:26).
Then Jesus hits them with the big one. He calls himself the "bread of life." The passage says they "murmured" at him and remarked, "Is not this Jesus, the son of Joseph, whose father and mother we know? How does he now say, 'I have come down from heaven'?" (John 6:41). They've reached the edge and Jesus knows it. The Greek word used for "murmuring" is also used in Exodus 16:8 for the Israelite's rebellious "grumbling" in the Sinai wilderness. This is not innocent questioning. Their hearts are hardened against him.
Now here's the curious passage I spoke of earlier. This is the key to why they don't believe. Jesus replies, "Do not murmur among yourselves. No one can come to me unless the Father who sent me draws him…" (John 6:43-44). Is Jesus saying they can't believe in him unless the Father allows them?
The Vatican II document Dei Verbum states faith is a gift from God. "Before this faith can be exercised, man must have the grace of God to move and assist him; he must have the interior help of the Holy Spirit, who moves the heart and converts it to God, who opens the eyes of the mind and makes it easy for all to accept and believe the truth" (Dei Verbum, 5).
We can't believe without God's help; however, we still play a part. We must be disposed to receive God's gift of grace. The people saw Jesus' healings. They ate the miracle bread. But they couldn't get past the fact that Jesus was the carpenter's son. How could he "come from heaven"? How could he call God his Father? They listened but refused to hear. They saw, but they could not believe. Their earthly knowledge would not allow the Holy Spirit to work in their hearts.
So, how do we get doubters to believe? From this passage it's safe to say that sometimes we can't. If people refused to believe Jesus himself, I'm sure there will be times when we strike out too. If the Father doesn't draw them, they won't believe. In other words, if there's no supernatural nudge, nothing will convince them.
But is there a way to help that nudge along? Logical arguments are not a bad thing. The faith is logical and reasonable, after all. However, I'm becoming convinced that the only way to help people see the truth of Catholicism is to talk about the gospel, the message of salvation in Jesus Christ.
In Romans 1:16, St Paul says the gospel "is the power of God." Proclaimed in words and lived out in witness, it is the grace of God in action. The gospel is the truth that Jesus died to bring us back to our true home in God. We are made for God, but live separated from him because of sin. We long for him and don't recognize it. We're restless and don't know why. The Father sent his son to show us his love. Jesus sacrificed himself to make God's love ours again. The Father draws us to his son–to go to him, to follow him, and to accept him as Lord and Savior. The Father always draws. The invitation is always there. All we have to do is receive it.
Next time you find yourself in one of those impossible discussions that's going nowhere, perhaps try a different tactic. Instead of logically explaining all the nuances of Catholic theology, explain the gospel. Tell them about Jesus' sacrifice and invite them to receive the Holy Spirit's gift. Challenge them to give God a shot. If nothing else, they might leave you alone after that. Or, they might take you up on it!
The gospel is the power of God. The Holy Spirit moves through this message and that's when things happen. Minds are touched. Hearts are moved. People believe.
Marc Cardaronella is Director of the Office of Catechesis and Faith Formation.
Daily Scripture Readings
For complete daily Scripture texts, click here: http://www.usccb.org
Monday, August 13
Ezekiel 1:2-5, 24-28c
Psalms 148:1-2, 11-12, 13, 14
Matthew 17:22-27
Tuesday, August 14
Ezekiel 2:8—3:4
Psalms 119:14, 24, 72, 103, 111, 131
Matthew 18:1-5, 10, 12-14
Wednesday, August 15
Revelation 11:19a; 12:1-6a, 10ab
1 Corinthians 15:20-27
Luke 1:39-56
Thursday, August 16
Ezekiel 12:1-12
Rsalms 78:56-57, 58-59, 61-62
Matthew 18:21–19:1
Friday, August 17
Ezekiel 16:1-15, 60, 63
or Ezekiel 16:59-63
Psalms Isaiah 12:2-3, 4bcd, 5-6
Matthew 19:3-12
Saturday, August 18
Ezekiel 18:1-10, 13B, 30-32
Psalms 51:12-13, 14-15, 18-19
Matthew 19:13-15
Twentieth Sunday in Ordinary Time, August 19
Proverbs 9:1-6
Psalms 34:2-3, 4-5, 6-7
Ephesians 5:15-20
John 6:51-58
Monday, August 20
Ezekiel 24:15-23
Deuteronomy 32:18-19, 20, 21
Matthew 19:16-22
Tuesday, August 21
Ezekiel 28:1-10
Deuteronomy 32:26-27ab, 27cd-28, 30, 35cd-36ab
Matthew 19:23-30
Wednesday, August 22
Ezekiel 34:1-11
Psalms 23:1-3a, 3b-4, 5, 6
Matthew 20:1-16
Thursday, August 23
Ezekiel 36:23-28
Psalms 51:12-13, 14-15, 18-19
Matthew 22:1-14
Friday, August 24
Revelation 21:9b-14
Psalms 145:10-11, 12-13, 17-18
John 1:45-51
Saturday, August 25
Ezekiel 43:1-7ab
Psalms 85:9ab & 10, 11-12, 13-14
Matthew 23:1-12
Twenty-first Sunday in
Ordinary Time, August 26
Joshua 24:1-2a, 15-17, 18b
Psalms 34:2-3, 16-17, 18-19, 20-21
Ephesians 5:21-32 or 5:2a, 25-32
John 6:60-69