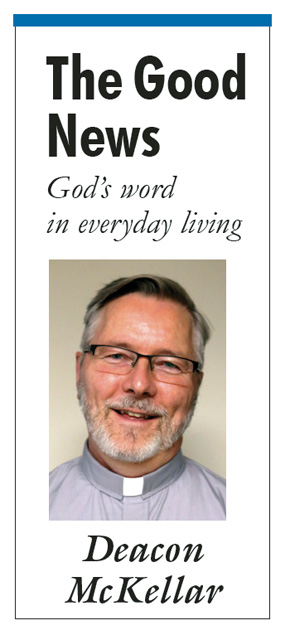 Today's Gospel is the conclusion of a long story that we have been following in the readings for the past few weeks. It would be impossible to understand the ending without seeing the connection to the whole narrative.
Jesus miraculously feeds a very large crowd of Galileans and people follow him because they "ate loaves and were filled" (6:26). Jesus redirects them to seek the "food that endures for eternal life" (6:27). Jesus says he is the "true bread from heaven" (6:32).
The people murmured and Jesus rebukes them declaring, "I am the living bread that came down from heaven; whoever eats this bread will live forever; and the bread that I will give is my flesh for the life of the world" (6:51).
Now the people quarrel among themselves. Is Jesus talking about cannibalism! Obviously as Catholics, we don't believe consuming the Eucharist involves cannibalism. The Body, Blood, Soul and Divinity of Jesus are found sacramentally under the appearance of bread and wine.
Are the people being overly literal? Is Jesus merely using a metaphor?
Yet instead of correcting or clarifying, Jesus makes a very emphatic negative statement; "Amen, amen, I say to you, unless you eat the flesh of the Son of Man and drink his blood, you do not have life within you." (6:53).
Let's think about this. Jesus is being intentionally provocative. Instead of saying, "Come on people can't you see this is a metaphor!" Jesus provokes them further by saying, "Unless you eat my flesh and drink my blood you cannot be saved!"
Up to this point Jesus has used a general Greek word for eat which could simply be translated consume.
Although the lectionary continues to simply say 'eat' in the next verse, Jesus has actually switched to a different very graphic word in Greek which has the meaning "to bite or chew food audibly."
We could translate "Whoever munches or gnaws my flesh and drinks my blood has eternal life, and I will raise him on the last day" (6:34). The standard Greek lexicon notes that this more graphic word is used "to offset any tendencies to 'spiritualize' the concept so that nothing physical remains in it." In other words, Jesus is deliberately saying, "This is not a metaphor!"
Jesus could easily have corrected them saying, "Let's not get overly literal — 'whoever believes in me has eternal life' — only the spirit and faith matter."
Instead he continues, "For my flesh is true food, and my blood is true drink. Whoever eats my flesh and drinks my blood remains in me and I in him. (6:55–56). The standard Greek lexicons say the word translated 'true' means "pertaining to being real . . . genuine, not imaginary." Again, Jesus is clearly saying this is not a metaphor!
We call this 'real food' the Real Presence of Christ in the Eucharist. Notice as well that when we partake of the Eucharist we 'remain' in Christ and he remains in us. We call this communion. Further Jesus says the "one who munches or gnaws on me will have life because of me."
Does this mean we receive new life through the Eucharist? St. Augustine would answer, "Yes, because communion with Jesus brings new life."
St. Ambrose, speaking about this passage says, "this food which you receive, this bread which comes down from heaven, holds the substance of eternal life." (De Mysteriis)
Yet, shouldn't the focus of our salvation be on Jesus' completed work on the cross? Here is where we might miss the point. In John's Gospel, Jesus' death on the cross and the sacrifice of the Eucharist are one and the same. They are the same event.
As the Catechism points out "The sacrifice of Christ and the sacrifice of the Eucharist are one single sacrifice" (CCC 1367). The Eucharist "re-presents (makes present) the sacrifice of the cross, because it is its memorial" (CCC 1366). By memorial we mean "not merely the recollection of past events" but a way of proclaiming them and making them present to us (CCC 1363).
Jesus Christ died once for all on the cross to forgive our sins, but this one sacrifice at Calvary is made present in every Eucharist. As the priest acts in the place of Jesus in the Mass, the prayers offered are not by the priest alone, but they are the very prayers of Jesus to the Father at the Last Supper. There is no more powerful prayer that could be offered.
The disciples who were murmuring earlier now answer, "This saying is hard; who can accept it?" (John 6:60). Again, it is important to understand that the Greek implies that Jesus' words were not hard to understand, but hard to accept. This doesn't harmonize with the idea that people were merely taking Jesus' words too literally.
There are some who think Jesus engages in a dramatic reversal at the end of this dialogue as Jesus now says, "It is the spirit that gives life, while the flesh is of no avail" (John 6:63). Does this imply that Jesus admits he was being provocative and now suggest we understand him figuratively?
The Spirit gives life as he does in baptism (John 3:6; Galatians 3:27). The reception of the Spirit is the means of our communion. Clearly Jesus can't be saying that the "flesh is of no avail" in relation to the incarnation, or his bodily sacrifice at Calvary, but is he denying his physical bodily presence in the Eucharist even understood sacramentally?
If Jesus' previous repeatedly provocative language was merely dramatic, why would he let the fallen away disciples leave (John 6:66) and not correct this apparent misunderstanding? This interpretation makes no sense.
It is now time for each of us to approach Jesus. Jesus Promised "I am the bread of life; whoever comes to me will never hunger, and whoever believes in me will never thirst" (6:35). Did we join the crowd in saying, "Sir, give us this bread always"? Yet, are we now murmuring or grumbling about what Jesus said? Do we trust that Jesus will fully satisfy our every hunger and thirst?
If this is your desire today, please join me in praying a prayer by St. John Chrysostom based on today's reading,
"Christ give us the desire not only to see you, but also to touch you, to eat you, and sink my teeth into your flesh, and so to be united with you and thus satisfy all my desires." Amen.
Deacon Scott McKellar is pastoral associate at St. Therese Parish, North.
Daily Scripture Readings
For complete daily Scripture texts, click here: http://www.usccb.org
Monday, August 27
2 Thessalonians1:1-5, 11-12
Psalms 96:1-2a, 2b-3, 4-5
Matthew 23:13-22
Tuesday, August 28
2 Thessalonians 2:1-3a, 14-17
Psalms 96:10, 11-12, 13
Matthew 23:23-26
Wednesday, August 29
2 Thessalonians 3:6-10, 16-18
Psalms 128:1-2, 4-5
Mark 6:17-29
Thursday, August 30
1 Corinthians 1:1-9
Psalms 145:2-3, 4-5, 6-7
Matthew 24:42-51
Friday, August 31
1 Corinthians 1:17-25
Psalms 33:1-2, 4-5, 10-11
Matthew 25:1-13
Saturday, September 1
1 Corinthians 1:26-31
Psalms 33:12-13, 18-19, 20-21
Matthew 25:14-30
Twenty-second Sunday in Ordinary Time, September 2
Deuteronomy 4:1-2, 6-8
Psalms 15:2-3, 3-4, 4-5
James 1:17-18, 21b-22, 27
Mark 7:1-8, 14-15, 21-23
Monday, September 3
1 Corinthians 2:1-5
Psalms 119:97, 98, 99, 100, 101, 102
Luke 4:16-30
Tuesday, September 4
1 Corinthians 2:10B-16
Psalms 145:8-9, 10-11, 12-13ab, 13cd-14
Luke 4:31-37
Wednesday, September 5
1 Corinthians 3:1-9
Psalms 33:12-13, 14-15, 20-21
Luke 4:38-44
Thursday, September 6
1 Corinthians 3:18-23
Psalms 24:1bc-2, 3-4ab, 5-6
Luke 5:1-11
Friday, September 7
1 Corinthians 4:1-5
Psalms 37:3-4, 5-6, 27-28, 39-40
Luke 5:33-39
Saturday, September 8
Micah 5:1-4a
Or Romans 8:28-30
Psalms 13:6ab, 6c
Matthew 1:1-16, 18-23 or 1:18-23
Twenty-third Sunday in
Ordinary Time, September 9
Isaiah 35:4-7a
Psalms 146:6-7, 8-9, 9-10
James 2:1-5
Mark 7:31-37