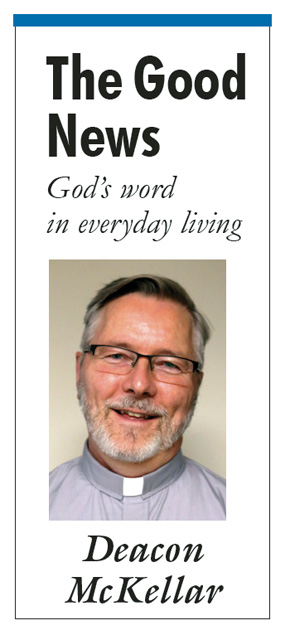 In today's Gospel, Jesus poses a question that is relevant to each of us. Jesus asks, "But who do you say that I am?"
In our modern world we have a bewildering variety of types of intimacy. We might 'know' people as 'friends' on Facebook that live in a different state, and that we have never actually met in person. Or someone might take a selfie with some famous person in order to make some one-sided claim on a relationship with that person.
More substantial relationships require a much deeper type of mutual connection. We discover things about the other person and they begin to discover things about us. There is an exchange of persons. This begins with our colleagues at work, or neighbors and those we socialize with.
As we invest more time in the relationship, we gain a deeper intimacy with our family and our genuine friends. Very often our most intimate bond is with a spouse but sometimes a relationship with a loving parent or friend can also reach a very deep exchange of intimacy.
Jesus' question to his disciples, is relevant to each of us, "But who do you say that I am?" Is Jesus a superficial friend who shows up in our Facebook feed on Sundays, or some kind of celebrity that we pose with for a selfie. Or is Jesus an intimate close friend?
What does it mean to know Jesus or to know God? We can only meaningfully talk about a friend in terms of a personal relationship. Most Catholics seem to agree. In a recent Pew study, 68 percent of Catholics responded that "having a personal relationship with Jesus" was essential to being Catholic. Surprisingly, even 60 percent of so-called "cultural Catholics" gave the same response.
Yet, in some people's minds the idea of a personal relationship with God or a personal relationship with Jesus is a foreign concept that was imported from outside our Catholic tradition. The idea is not Catholic but Protestant.
While it is probably true that the exact phrase 'personal relationship' is a more recent expression, the idea of friendship with God has always been a part of Catholic tradition. St. Alphonsus Liguori notes, "In any kind of doubtfulness, either on your own account or that of others, one should act towards your God with the same confidence we have of faithful friends, who consult together on every matter" (Way of Salvation).
Speaking of the lives of the saints, Fr. Garrigou-Lagrange O.P. notes, "Many times in the history of their lives mention is made of secret prayers, of a heart to heart conversation with God in which they often received the greatest lights . . ." (Three Ages I). What is this heart to heart conversation if it is not personal relationship with God?
The fathers of Second Vatican Council note, "The invisible God out of the abundance of his love speaks to men as friends and lives among them, so that he may invite and take them into fellowship with himself" (DV 2).
In the same Constitution the fathers talk about not just intellectual knowledge but subjective faith and conversion, or the 'obedience of faith' through which a person "commits their whole self freely to God, offering the full submission of intellect and will to God" (DV 6).
Later, speaking of the conversion of non-Christians the council fathers note, "This conversion must be taken as an initial one, yet sufficient to make a man realize that he has been snatched away from sin and led into the mystery of God's love, who called him to enter into a personal relationship with Him in Christ" (AG 13). This explicit call to personal relationship is not just for new Christians but is the norm for all Christians.
Not surprisingly our bishops have noted in the National Directory of Catechesis that conversion involves, "the acceptance of a personal relationship with Christ, a sincere adherence to him, and a willingness to conform one's life to his" (NDC, p. 48).
But how does this relate to the Sacraments? The fathers of Second Vatican Council point out, "The sacred liturgy does not exhaust the entire activity of the Church. Before men can come to the liturgy they must be called to faith and to conversion" (SC 9, CCC 1072).
St. Pope John Paul II expressed concern that in Catechetical practice many children baptized in infancy "come for catechesis in the parish without receiving any other initiation into the faith and still without any explicit personal attachment to Jesus Christ; they only have the capacity to believe placed within them" (CT 19).
For the sacrament of Baptism to be effective it requires both the power and efficacy of the sacrament itself and the subjective disposition of the one receiving the sacrament. This disposition or change of heart on the part of the one receiving the sacrament, means that each one of us must respond to the message of the Gospel with our own personal 'Yes.'
St. Pope John Paul II describes this as the moment when "a person is one day overwhelmed and brought to the decision to entrust himself to Jesus Christ by faith" (CT 25). Earlier in his first encyclical, Mission of the Redeemer, St. Pope John Paul II notes that "Conversion means accepting, by personal decision, the saving sovereignty of Christ and becoming his disciple" (MR 46).
So once again Jesus asks each of us, "But who do you say that I am?" Have we taken the risk of getting to know Jesus through prayer? Have we spent time listening to him in his Word? Have we spent time praying and being alone with him without the many distractions of our world?
Getting to know someone is to risk misunderstanding them, at least at first. This is exactly what happens to St. Peter in our Gospel. He is looking for the Jesus he desires and Jesus is forced to redirect him. A genuine encounter with Jesus transforms us. We lay down our hopes and dreams and learn to trust that he has better plans for us.
Jesus open the eyes of my heart to see you as you really are. I trust in you!
Deacon Scott McKellar is pastoral associate at St. Therese Parish, North.
Daily Scripture Readings
For complete daily Scripture texts, click here: http://www.usccb.org
Monday, September 17
1 Corinthians 11:17-26, 33
Psalms 40:7-8a, 8b-9, 10, 17
Luke 7:1-10
Tuesday, September 18
1 Corinthians 12:12-14, 27-31a
Psalms 100:1b-2, 3, 4, 5
Luke 7:11-17
Wednesday, September 19
1 Corinthians 12:31-13:13
Psalms 33:2-3, 4-5, 12 & 22
Luke 7:31-35
Thursday, September 20
1 Corinthians 15:1-11
Psalms 118:1b-2, 16ab-17, 28
Luke 7:36-50
Friday, September 21
Ephesians 4:1-7, 11-13
Psalms 19:2-3, 4-5
Matthew 9:9-13
Saturday, September 22
1 Corinthians 15:35-37, 42-49
Psalms 56:10c-12, 13-14
Luke 8:4-15
Twenty-Fifth Sunday in Ordinary Time, September 23
Wisdom 2:12, 17-20
Psalms 54:3-4, 5, 6 & 8
James 3:16—4:3
Mark 9:30-37
Monday, September 24
Proverbs 3:27-34
Psalms 15:2-3a, 3bc-4ab, 5
Luke 8:16-18
Tuesday, September 25
Proverbs 21:1-6, 10-13
Psalms 119:1, 27, 30, 34, 35, 44
Luke 8:19-21
Wednesday, September 26
Proverbs 30:5-9
Psalms 119:29, 72, 89, 101, 104, 163
Luke 9:1-6
Thursday, September 27
Ecclesiastes 1:2-11
Psalms 90:3-4, 5-6, 12-13, 14 & 17bc
Luke 9:7-9
Friday, September 28
Ecclesiastes 3:1-11
Psalms 144:1b & 2abc, 3-4
Luke 9:18-22
Saturday, September 29
Daniel 7:9-10, 13-14
or Revelations 12:7-12ab
Psalms 138:1-2ab, 2cde-3, 4-5
John 1:47-51
Twenty-Sixth Sunday in Ordinary Time, September 30
Numbers 11:25-29
Psalms 19:8, 10, 12-13, 14
James 5:1-6
Mark 9:38-43, 45, 47-48