By Marty Denzer
Catholic Key Associate Editor
KANSAS CITY — Peg Ekerdt has many, many fond memories of her 24 years as a pastoral associate at Visitation Parish and from her seven years at St. Elizabeth and from her time with the former diocesan Peace and Justice Office. That's a lot of memories!
Ann Hayles began teaching religious education classes at Our Lady of the Presentation Parish in 1987, and a few fast years later became a pastoral associate at Holy Spirit Parish near her Lee's Summit home. That same year, 1999, Ann took over as Director of Religious Education at Holy Spirit and retired at the end of August 2018. She too has many fond memories.
The two women in parish ministry know each other well, having attended classes and workshops together as well as sharing many conversations about ministry over the years.
Peg grew up in Metamora Township, Ill., a suburb of Peoria, a small community surrounded by expansive corn fields. She attended Catholic schools, grade and high school, before enrolling at Marquette University. She had graduated from a high school run by Benedictine sisters where she realized that the Church was much broader than she had thought. She was beginning to feel the call to a life of ministry.
Ann grew up in a Navy family in Brunswick, Ga., the oldest of seven children.  When she was still in high school, she served as a pastoral council representative at St. Francis Xavier Parish in Brunswick. She decided to attend Avila College in Kansas City, and graduated with a degree in education. She taught in public schools first, all the while longing to get back into parish work. She married young, she said with a laugh, and started her family. Then Ann heard about the Institute for Ministry distance learning program at Loyola University-New Orleans. "That program jump started my certification in religious education," she said. She later earned her MA in parish ministry from Loyola-New Orleans, also distance learning.
Peg's first ministerial foray was in campus ministry at Marquette. As the years passed, Peg met and married Dave Ekerdt, began a family, eventually welcoming two daughters, and moved to Boston where she taught at a Catholic high school.
She also earned a Master's degree in pastoral ministry from Boston College and later wrote and consulted for several national publications. Then, some 30 years ago, Dave was hired to work in the Gerontology Department at the University of Kansas Medical Center, and the family moved to Kansas City.
The Ekerdts bought a house in St. Elizabeth's parish and were welcomed into the parish family by the pastor, Father Dick Carney. Their daughters were soon immersed in St. Elizabeth School, and later St. Teresa's Academy. The Ekerdts made many friends at St. Elizabeth, and Fr. Carney became Peg's spiritual mentor. She was working for the diocesan Peace and Justice office when, in 1994, Father Norm Rotert, the new pastor of Visitation, offered her an opportunity to serve in ministry at that parish.
Peg was torn. "I love and felt called to ministry," she later said. They had wonderful friends at St. Elizabeth's, their daughters were in school there, but… Peg brought her dilemma to Fr. Carney, who heard her out and then said, "You will love Visitation. There are many good people there."
Looking back over the years at Visitation, she wrote in the Aug. 26th bulletin, "Fr. Carney was right. I have loved Visitation and her people for these last 24 years and will continue to love them for the rest of my days. There are so many good people in this parish community."
Peg fondly remembered her early mentors and leaders, Fathers Carney and Rotert, and more recently, Fr. Pat Rush and Msgr. Brad Offutt, Visitation's current pastor, with equal fondness.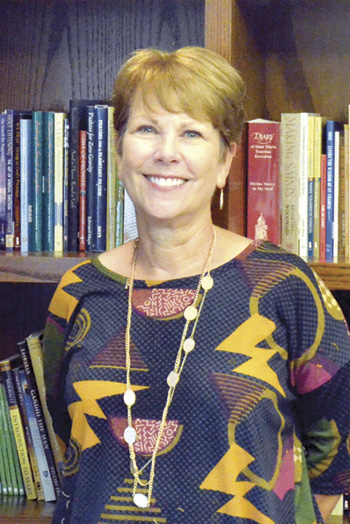 She worked with adults in faith formation, more than 750 engaged couples over the 24-year period, and in pastoral care. "It is a privilege to walk with people at the times of joy and sorrow in their lives," she said, quoting from Gaudium et Spes, the pastoral constitution Vatican II, on the Church in the Modern World.
Ann's love is RCIA, the Rite of Christian Initiation of Adults. "It's so refreshing, challenging and above all holy to accompany people through those sacred moments in their lives!" She has also walked with people through the painfully intimate process of annulment when they came to the parish to begin.
She smiled broadly as she recalled her ministry beginning under a pastor named Michael and ending under another pastor named Michael. Ann was originally hired by Father Michael Rice, now retired, and her boss at her retirement was Father Michael Clary.
Peg clearly remembers the 18 months it took to build Visitation's new church. "We had Mass in the school gym during those months," she said." It really built community. The gym was set up to imitate the design of the new church, so parishioners got used to it," she recalled. "The new church made us one faith community, and right from the start it felt like home," she said.
Visitation is a wonderful community of faith, Peg said. "I loved working for them and with them in adult formation, marriage prep and pastoral care. But really, the Liturgy is the source and summit of all our lives, it's the heart of who we are as a people. A good liturgy takes work and intentionality!"
Both pastoral ministers regretted the lack of formation and credentialing in parish ministries. Practical and theological training is needed for those who work for and with parishioners, they said.
Peg hasn't yet made any plans for new adventures or ventures. "This is a time to be, not do for a while," she said. "I don't know what's next but I'm OK with that." She would like to spend more time reading, walking, thinking and praying, and of course, going to Chicago to visit her two daughters and grandson.
Ann plans to volunteer with Jewish Vocational Services, Bishop Sullivan Center and St. James Place. She and her husband of 41 years also are packing for a Caribbean cruise. They hope to travel more, exercise more and help out with their nine grandchildren.
Both are confident that the people hired to replace them will be awesome. But Peg will be missed at Visitation and Ann at Holy Spirit!