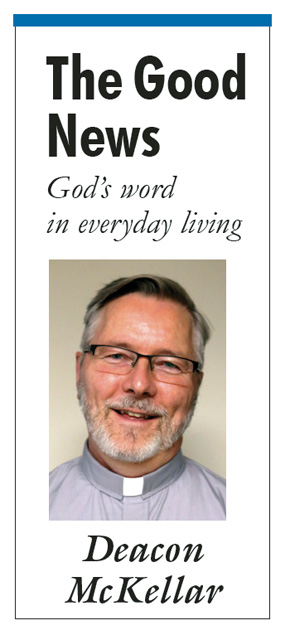 Modern psychological research has demonstrated that each of us were created with an inner need or appetite to seek out 'emotional support' and 'effective dependency' on others. This inner need is affected either by a sense of acceptance or rejection by others.
Sometimes in a negative sense we bolster our feelings of security by deciding who is in and who is out. Religious communities are often affected by this. Sometimes you have to be in a certain group to be accepted, or you have to have to do things a certain way to receive approval.
In our reading from Numbers, Eldad and Medad appear to have overslept their meeting and were not in the correct place when the Holy Spirit descended on the seventy elders. They still received the Holy Spirit and began to prophesy but not in the expected place. Joshua wanted to prevent them, but Moses replied "Are you jealous for my sake? If only all the people of the Lord were prophets! If only the Lord would bestow his spirit on them!" (Numbers 11:29). Many people have seen this as a foreshadowing of Pentecost in Acts 2.
This passage appears to be echoed in today's Gospel. The Apostles see a man driving out demons in Jesus name. John tells Jesus "we tried to prevent him because he does not follow us." But Jesus replied, "Do not prevent him. There is no one who performs a mighty deed in my name who can at the same time speak ill of me." (Mark 9:39).
Like prophesying in the time of Moses, performing "a deed of power, or a miracle" implies the presence of the Holy Spirit. While being an intimate 'follower' of Jesus is clearly the best way to be a disciple, the presence of the Spirit indicates that God's circle of acceptance is sometimes wider than our narrow ideas of community.
In the next section Jesus talks about four ways that God's community is negatively affected by bad behavior. Four times Jesus uses the verb (skandaliz) "causing scandal" or "cause to sin." Scandal has clearly been a news item in the past few weeks.
In popular culture scandal is thought of as any conduct that causes embarrassment. This is not the traditional Catholic understanding.
The Catechism notes, "Scandal is an attitude or behavior which leads another to do evil. The person who gives scandal becomes his neighbor's tempter. He damages virtue and integrity; he may even draw his brother into spiritual death. Scandal is a grave offense if by deed or omission another is deliberately led into a grave offense." (CCC 2284).
The important factor here is that the offence "provides an occasion of sin to another," or "leads another to do evil." It is not merely something which is embarrassing.
Jesus uses hyperbole to highlight the seriousness of a grave offense involving this type of sin. "Whoever causes one of these little ones who believe [in me] to sin, it would be better for him if a great millstone were put around his neck and he were thrown into the sea" (Mark 9:42). If by word or deed we become an occasion of sin to another and lead one of the little ones away from belief it is a very serious matter.
Obviously, there are many ways we can lead others into sin or even to lead them to completely abandon their belief. The effect of sin itself and how it is rectified is one level of scandal, but quite often it is the popular discussion of others sins which is most damaging to people's faith. The Catechism highlights several ways in which those who discuss other's sins can fall into serious sin themselves and create or worsen scandal.
It is possible to bring about scandal which harms people's faith by engaging rash judgment in which one "assumes as true, without sufficient foundation, the moral fault of a neighbor" (CCC 2477). A second sin would be that of detraction when someone, "without objectively valid reason, discloses another's faults and failings to persons who did not know them" (CCC 2477).
Fear of detraction is not a justification for a code of silence in the face of abuse. There are times when it is absolutely necessary to disclose another's faults and failings to legitimate authorities to bring about justice. Yet a moral duty to report an injustice to legitimate authorities may not be the same as the moral right to freely blog about it.
In less common circumstances, public disclosure is a seemingly justified type of activism to combat corrupt authority. Our culture's level of trust in authority has reached such a low, however, that for many people this type of activism has become the norm. In fact, on many popular religious blogs, rash judgment and detraction have unfortunately become the norm.
Finally, the Catechism warns about the sin of calumny when by remarks contrary to the truth, one "harms the reputation of others and gives occasion for false judgments concerning them" (CCC 2477). Very often the negative things said about others are exaggerated and distorted, especially if we have no first-hand knowledge of the situation. Clearly this easily leads to further scandal.
Jesus also reminds us that we can harm the body of Christ through our own personal sins. Using strong hyperbole, Jesus says if your hand causes you to sin, cut it off. If your foot causes you to sin, cut it off. And if your eye causes you to sin, pluck it out. Clearly the Jewish faith prohibited self-mutilation, so Jesus is not being literal (Deut. 14:1; 1 Kings 18:28; Zech. 13:6). Instead, Jesus is reminding his disciples of his radical call to holiness of life. Our own sins can harm the body of Christ both interiorly and by scandal though our bad example to others.
Clearly there is a time to speak up, yet there may also be a time to be silent and to pray. As the Apostle James warns us, the tongue can be a fire, and a restless evil, with it we can bless or we can curse (James 3:5-10). Jesus reminds us that his calling involves a radical new life of holiness that effects every member of our being.
Deacon Scott McKellar is pastoral associate at St. Therese Parish, North.
Daily Scripture Readings
For complete daily Scripture texts, click here: http://www.usccb.org
Monday, October 1
Job 1:6-22
Psalms 17:1bcd, 2-3, 6-7
Luke 9:46-50
Tuesday, October 2
Job 3:1-3, 11-17, 20-23
Psalms 88:2-3, 4-5, 6, 7-8
Matthew 18:1-5, 10
Wednesday, October 3
Job 9:1-12, 14-16
Psalms 88:10bc-11, 12-13, 14-15
Luke 9:57-62
Thursday, October 4
Job 19:21-27
Psalms 27:7-8a, 8b-9abc, 13-14
Luke 10:1-12
Friday, October 5
Job 38:1, 12-21; 40:3-5
Psalms 139:1-3, 7-8, 9-10, 13-14ab
Luke 10:13-16
Saturday, October 6
Job 42:1-3, 5-6, 12-17
Psalms 119:66, 71, 75, 91, 125, 130
Luke 10:17-24
Twenty-Seventh Sunday in Ordinary Time, October 7
Genesis 2:18-24
Psalms 128:1-2, 3, 4-5, 6
Hebrews 2:9-11
Mark 10:2-16
Monday, October 8
Galatians 1:6-12
Psalms 111:1b-2, 7-8, 9 & 10c
Luke 10:25-37
Tuesday, October 9
Galatians 1:13-24
Psalms 139:1b-3, 13-14ab, 14c-15
Luke 10:38-42
Wednesday, October 10
Galatians 2:1-2, 7-14
Psalms 117:1bc, 2
Luke 11:1-4
Thursday, October 11
Galatians 3:1-5
Luke 1:69-70, 71-72, 73-75
Luke 11:5-13
Friday, October 12
Galatians 3:7-14
Psalms 111:1b-2, 3-4, 5-6
Luke 11:15-26
Saturday, October 13
Galatians 3:22-29
Psalms 105:2-3, 4-5, 6-7
Luke 11:27-28
Twenty-Eighth Sunday in Ordinary Time, October 14
Wisdom 7:7-11
Psalms 90:12-13, 14-15, 16-17
Hebrews 4:12-13
Mark 10:17-30