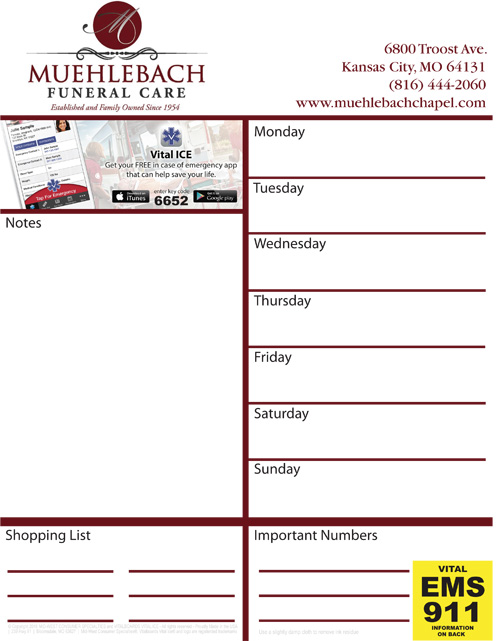 Muehlebach Funeral Care is investing in the local community with a new initiative that could help save lives. Steve Pierce, owner, recognized a unique opportunity to assist local first responders through the Vitalboards initiative.
Vitalboards, available through Muehlebach Funeral Care, are comprised of a write-on-wipe-off magnetic memo board that can be put on the refrigerator. There is a Monday through Sunday planner, shopping list and note area and important phone numbers section, and the boards come with a wet erase marker and mounting clip that should be placed on the refrigerator door.
Sound like the memo/planner you have on your refrigerator now? Well, what makes the Vitalboards memo board unique is that on the reverse side there is room for each resident to record critical health information. Emergency Medical Services personnel, Fire, Police and Emergency Room staff were surveyed and the information you fill out represents part of the required documentation needed in the event of a medical emergency. Information including name, address, date of birth, gender, emergency contact person and contact information, height, weight, blood type, insurance, conditions you have been treated for in the past, current medications and any allergies to medications.
There is also a small waterproof sticker included which should be affixed on or near the front door. In the event of an emergency, this sticker will alert first responders to the existence of the Vitalboard so they retrieve the resident's vital information. The boards can easily be taken on an ambulance to the hospital where ER staff can access the information quickly, since time is often of the essence when a life is on the line.
What about if a medical emergency occurs when you are not at home? You can download the Vital ICE App from either the Apple App Store or Google Play Store from your smart phone and enter in code: #6652. The app enables you to safely store your vital information on your phone, which can be quickly accessed in an emergency. The app is a free download, made available by Muehlebach Funeral Care and Pierce as a thank you to the Kansas City community.
Vitalboards have been distributed through churches, civic organizations and several community events. You can also contact Muehlebach Funeral Care, (816) 444-2060, for more information or to arrange to receive a Vitalboard.