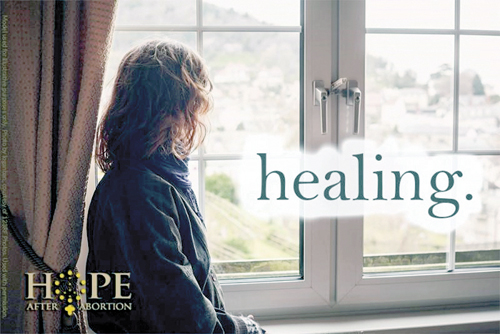 By Marty Denzer
Catholic Key Associate Editor
KANSAS CITY — The 1973 U.S. Supreme Court ruling, Roe v. Wade, legalized abortion throughout the country. Since then more than 60 million abortions have been performed. For each, there is a woman and man, grandparents, siblings, aunts and uncles—so many more than 60 million people affected by what St. Pope John Paul II termed "The Culture of Death."
Statistics are popular in America, so here are some rather startling ones compiled by the Respect Life office: By age 45, about one third of all women in North America will have had at least one abortion. Of those women, about half will go one to have another abortion. And, of the women in the U.S. who have had abortions, 24 percent identify as Catholic, which means abortion affects about 10 million Catholic women and men.
The majority of abortions performed in this country are at Planned Parenthood centers, and the majority of them are strategically located in areas that target blacks and Hispanics for abortion. Many are also near college campuses.
And now there is an abortion-inducing pill, touted as "in the safety and comfort of your own home," but in reality possibly more traumatic than at an abortion clinic. The medications, mifepristone and misoprostol, can cause severe pain and related stress. Fortunately, the Abortion Pill can be reversed.
Many factors may have contributed to the decision to end a pregnancy, and in many cases the decision was pain-filled and heart-breaking.
Post-abortion, a woman may feel relieved at first, but later there may be grief, guilt, self-disgust, a feeling that something very wrong was done that can never be forgiven. Nightmares, inabilities to relate to other people, eating disorders and drug abuse have all been reported, sometimes ongoing for years, even decades. This is known as post-abortion syndrome, a relative of post-traumatic stress syndrome.
This is where Project Rachel, begun in the Archdiocese of Milwaukee more than 30 years ago and now a ministry of the Catholic Church here in this country, Canada and Europe, can help heal post abortive women and men.
In the Diocese of Kansas City-St. Joseph and the Archdiocese of Kansas City in Kansas, the directors of Project Rachel collaborate to offer "Unfailing Mercy" one-day retreats several times yearly. Along with other events, such as speakers, Candlemas of the Innocents, Masses for babies lost to miscarriage, still-birth or abortion, and, importantly, teaching parish priests to emphasize God's loving mercy when preaching about abortion.
Based on the Divine Mercy Chaplet and Diary of St. Faustina, the retreats comfort, heal and, through the opportunity for confession, help women forgive themselves. Retreatants are encouraged to hear the special word God has for them; learn to see the experience, the choice with its 'factors' and wounds; let go of discouragement and condemnation; accept mercy with 'humility and trust'; reconcile with God and with the child/ren, and witness to truth and grace. Through scripture, discussions and exercises, retreatants learn about the effects of abortion, the post-abortion symptoms and steps to combat them, peeling away the onion-like layers of anger and sadness as they work through reconciliation and grieving towards healing. Project Rachel is geared toward women wounded by abortion; men can also seek healing through the related program Project Joseph. The next Project Rachel retreat offered is Nov. 4.
During the Year of Mercy (2015-16), Pope Francis gave parish priests world-wide faculties to forgive the sin of abortion and lift the accompanying automatic excommunication. Priests in KCSJ and KCK had been able to do that for decades, but with the pope's imprimatur, the number of women in the side-by-side dioceses seeking forgiveness from abortion increased. It gave them hope.
Mary Beth (not her real name), decades after her abortion, finally was able to believe in God's forgiveness and love and to forgive herself. In an joint interview with Teresa Hoeppner, program coordinator for the Respect Life office, she spoke of the years of guilt, sorrow and post-abortion syndrome she suffered, even though she married and gave birth to many children, raising them all. She said it's contrary to a woman's nature to abort.
"I loved all my children dearly, but something kept me from loving them wholeheartedly until I found forgiveness through the Sacrament of Reconciliation."
Hoeppner cited the Diary of St. Faustina (Diary, 1182) where the saint wrote "My daughter, write that the greater the misery of a soul, the greater its right to My mercy…"
Listening to Hoeppner, Mary Beth nodded, saying, "True," while wiping tears from her cheeks. She added, "Learning of God's love for each and every soul has nothing to do with our worthiness — that's how He is!"
Wanting to share her newfound hope and healing, Mary Beth became involved in sidewalk counseling.
"The healing is still happening for me," she said.
Project Rachel and Project Joseph help women and men reach a new understanding of the commitment to life, love for their families and to know the love and comfort of Christ, the Divine Mercy, and that of his Mother. But, Hoeppner said there is a need for volunteers.
"The Project Rachel ministry would not be possible without our dedicated volunteers," she said. "Our leadership team gives their time… and their hearts… in order to see women and men helped after abortion. Caring friends create prayer shawls to comfort our retreatants. Our ministry is held up in prayer by our Rachel Rosary Prayer Warriors. Generous donors give financial support, and many folks help in other ways, including providing food and drinks for our retreats. One gentleman even makes homemade soup for us! Others make Rosaries for retreatants; write letters of inspiration and support or favorite prayers for those seeking healing."
"Individuals or groups can sponsor a retreatant or donate toward the cost of hosting a retreat. And if someone wants to help but can't join the Project Rachel Leadership Team, host an event in parishes, or promote Project Rachel in conversation, they can "like" and "share" 'projectrachelkc' on Facebook. We are blessed by the support of our dioceses. Indeed, we are blessed in many ways!"
To learn more about Project Rachel or Project Joseph, or to register for a retreat: in Missouri, contact Teresa, (8167) 591-3804, email projectrachel@diocesekcsj.org or visit www.project rachelkc.com. In Kansas, contact the Archdiocese of Kansas City in Kansas, (913) 721-1570, Project Rachel Director, Anne Marie Alvey.