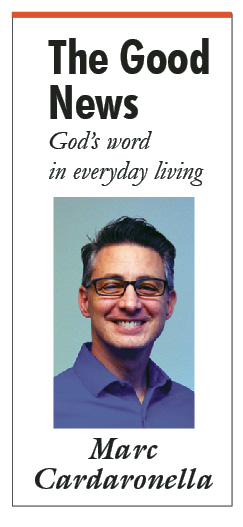 When I first came back to the Church, I wanted to pretend this week's gospel didn't exist. It's the story of the Rich Young Man and the dangers of money in Mark 10:17-30.
I wanted to follow Jesus, but I didn't want to sell everything I had and give it away. I wanted to live like Jesus, but not Mother Teresa. And yet, that's what Jesus seems to be saying. If the Rich Young Man is to have eternal life, he must sell all his possessions. So, what about it? Is money evil? Can you follow Jesus and keep your house?
Straight away, let's address this elephant of a question. Money. Should you have some? Should you have a lot? That all depends. It's widely accepted that Jesus wasn't speaking to everyone in his directive to the Rich Young Man. Lazarus and his sisters kept their wealth while being close friends and devoted followers of Jesus…as well the women in Galilee who ministered to him. Peter kept his house and boat (at least for a while), and Joseph of Arimathea didn't give up his status or position. Detachment is required from every disciple, but not as radical as this. No, Jesus is addressing something distinctive with this command. He's targeting the specific thing that holds the Rich Young Man's heart and keeps him from giving it to Jesus. Wealth and worldly possessions are his particular idol.
Everyone worships something. If it's not God, then it's something else…money, power, status, admiration, fame, security. What's the fundamental influence in your life? What drives every major decision you make? That's what occupies your center. That's your idol. Often you can tell what it is by how much you spend on it. Your budget uncovers your priorities.
We're made to have God at the center, and that's where he wants to be for all of us. Because when he's not, things go terribly wrong. Human faculties, particularly the intellect, are weakened. Reasoning becomes narcissistic and irrational. The disorientation that comes from rejecting the creator for the creation is debilitating…the results are all around us.
What is Jesus really asking of the Rich Young Man? He wants him to place his trust in God instead of his money. He wants him to rely on grace instead of himself and his own resources…and that's the hardest ask of all.
Studies show a link between education, wealth, and religiosity. Psychologists from the University of British Columbia in Vancouver found that people from more educated and wealthy nations are less likely to be religious. Research from the Global Index of Religion and Atheism shows the poorer the country, the more religious it tends to be. Scandinavian countries like Denmark, Sweden, and Norway are some of the wealthiest nations in the world with high standards of living and highly effective welfare systems. They're also repeatedly reported among the most irreligious.
So, it turns out that if you're healthy, wealthy, and well taken care of, God is often the furthest thing from your mind. You're self-confident and self-reliant. Who needs God? Why pray? Everything's going your way…until it isn't. What is it that brings the Rich Young Man to Jesus? The uncertainty. What about eternal life? That nagging question keeps coming up…despite the safety net of money. The big questions aren't answered by bank statements. Who am I? Why am I here? What if this is not all there is, and something more lies beyond death?
The point is not that money is evil. The point is money dulls us and keeps us from seeing the real answers to the real questions. It tricks us into trusting it when really, it's fleeting. Money offers no guarantees. It can be in your grasp and then gone like a leaf blown from your hand by the wind. The Rich Young Man trusts in himself. To have eternal life he must trust in God. Comfort and wealth are embedded in his center. Their fingers stretching into every part of his heart like a cancer. To put God in the center, he must detach. His prescription for eternal life is radical surgery. Only then will he have the freedom to give his heart totally to God.
But what about us? What about you? Your call may not be as radical as the Rich Young Man, but you must also practice detachment to some degree. What is competing with God for your center? We all have something. I certainly do. It may not be money…but it might. Pray about it. Ask God to reveal it to you. What influences your decisions more than your relationship with God? What leads you to make decisions that take you away from him?
"How hard it will be," Jesus remarks. It's a serious warning, not only to the dangers of material wealth, but to the hazards of spiritual complacency. Our great tendency is to trust in ourselves, our status, our abilities…anything but God. We pursue great lengths to avoid the effort of total surrender to the Gospel's demands. However, the story's end is telling. The Rich Young Man goes away sorrowful. The effort is too great. God doesn't want you to go away sorrowful. Trust in God, not in yourself and he will provide far more than you think possible.
Marc Cardaronella is Director of Catechesis and Faith Formation for the Diocese of Kansas City – St. Joseph.
Daily Scripture Readings
For complete daily Scripture texts, click here: www.usccb.org
Monday, October 15
Galatians 4:22-24, 26-27, 31–5:1
Psalms 113:1b-2, 3-4, 5a & 6-7
Luke 11:29-32
Tuesday, October 16
Galatians 5:1-6
Psalms 119:41, 43, 44, 45, 47, 48
Luke 11:37-41
Wednesday, October 17
Galatians 5:18-25
Psalms 1:1-2, 3, 4 & 6
Luke 11:42-46
Thursday, October 18
2 Timothy 4:10-17b
Psalms 145:10-11, 12-13, 17-18
Luke 10:1-9
Friday, October 19
Ephesians 1:11-14
Psalms 33:1-2, 4-5, 12-13
Luke 12:1-7
Saturday, October 20
Ephesians 1:15-23
Psalms 8:2-3ab, 4-5, 6-7
Luke 12:8-12
Twenty-ninth Sunday in Ordinary Time, October 21
Isaiah 53:10-11
Psalms 33:4-5, 18-19, 20, 22
Hebrews 4:14-16
Mark 10:35-45
Or Mark 10:42-45
Monday, October 22
Ephesians 2:1-10
Psalms 100:1b-2, 3, 4ab, 4c-5
Luke 12:13-21
Tuesday, October 23
Ephesians 2:12-22
Psalms 85:9ab-10, 11-12, 13-14
Luke 12:35-38
Wednesday, October 24
Ephesians 3:2-12
Isaiah 12:2-3, 4bcd, 5-6
Luke 12:39-48
Thursday, October 25
Ephesians 3:14-21
Psalms 33:1-2, 4-5, 11-12, 18-19
Luke 12:49-53
Friday, October 26
Ephesians 4:1-6
Psalms 24:1-2, 3-4ab, 5-6
Luke 12:54-59
Saturday, October 27
Ephesians 4:7-16
Psalms 122:1-2, 3-4ab, 4cd-5
Luke 13:1-9
Thirtieth Sunday in Ordinary Time, October 28
Jeremiah 31:7-9
Psalms 126:1-2, 2-3, 4-5, 6
Hebrews 5:1-6
Mark 10:46-52