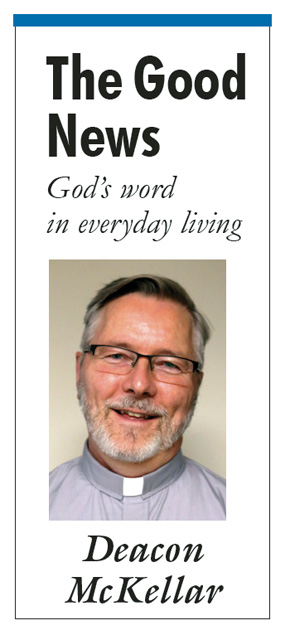 Although the story of blind Bartimaeus is undoubtedly a real incident in Jesus' life, there are many hints in the text of a secondary spiritual meaning. When Jesus asks Bartimaeus the same question he asked James and John in the previous section, "What do you want me to do for you?" Bartimaeus replies, "Master, I want to see."
The verb used here "to see" literally means "to look up" as in the expression "he looked up to heaven" with a prayer or blessing following (Mark 6:41; 7:34). The words can also mean specifically to gain or regain sight if you are blind. Clearly it is the second meaning that is intended here but the use of this same word in the context of prayer suggests other possibilities as a spiritual reading of the passage.
I am not suggesting the story is merely an allegory but that the double sense of the word "to see" would suggest the idea of prayer to the reader as a secondary sense to the text. Bartimaeus wants to both see physically and spiritually. The church has frequently used these words as a prayer of aspiration: Domine ut videam — "Lord, that I may see!"
The Catechism also points to the Eastern prayer tradition where this aspiration ". . . has been renewed in the traditional prayer to Jesus known as the Jesus Prayer: 'Lord Jesus Christ, Son of God, have mercy on me, a sinner!'" (CCC 2616). The Jesus Prayer seems to mix our petition here, "Jesus, son of David, have pity on me" (Mark 10: 47, 48) with the prayer of the tax collector in Luke 18, "O God, be merciful to me a sinner" (Luke 18:13).
Reading the text in this light, brings out other interesting points. This is the only incident in Mark where someone addresses Jesus directly by name in a healing. The early Christians frequently make petitions in Jesus name. Bartimaeus' repeated petition is personal and sounds a lot like a prayer of petition. He cries out, "Jesus, son of David, have pity on me."
In addition, although it is perhaps not unusual in Mark's Gospel for people to have difficulty getting near Jesus (Mark 2:4; 7:27; 10:13), this sounds a lot like the struggle one goes through with distractions in prayer. Bartimaeus' perseverance in the face of this obstacle is rewarded.
The obstacle itself, is many people in the crowd who, "rebuked him, telling him to be silent." In response to Bartimaeus' petitions, Jesus transforms these obstacles. Jesus stopped and commanded these same people in the crowd to "Call him." With Jesus' intervention, what was previously an obstacle now becomes an encouragement. Ironically the same people now say to Bartimaeus, "Take courage; get up, he is calling you."
In prayer, our natural mundane difficulties of distraction, dryness, and at times physical tiredness, are overcome when Jesus calls to us. The response is immediate, Bartimaeus "threw aside his cloak, sprang up, and came to Jesus." Perhaps this symbolizes Bartimaeus leaving behind his former life. In the early Church's Baptism liturgies, Christians were called to put off the old nature and to be clothed with Christ and a new nature (Colossians 2:12, 3:8–9; Romans13:12; Ephesians 4:22).
It also reminds us that at God's initiative, prayer becomes a supernatural encounter with him which transforms us. We are told, "Immediately he received his sight and followed him on the way" (10:52).
Jesus' words of healing also hint of both the physical and spiritual. Jesus tells him, "Go your way; your faith has saved you" (Mark 10:52). In this healing, there is no physical touch involved. Jesus simply declares that Bartimaeus' faith has "saved" him—the verb used (sozein) can refer to both physical and spiritual healing and even the idea of "salvation".
In overcoming the obstacles to his petitions, Bartimaeus demonstrates a bold, exuberant faith. Jesus cannot resist this kind of faith. As the prophet Joel notes: "Everyone who calls on the name of the Lord will be saved" (Joel 3:5; Acts 2:21, Romans 10:13). Again, Jesus responds to Bartimaeus just as he will each one of us in prayer.
In Mark's Gospel, this is first time that the title son of David has been applied to Jesus. This title reminds us of Jesus' role as Messiah. Many Old Testament promises concerning the coming of the Messiah talk about the messianic sign of opening of the eyes of the blind (see Isaiah 29:18; 35:5; 61:1-2; Luke 4:18).
In Christ we have all been given new sight brought about by the indwelling of the Holy Spirit. Faith in Christ and the reception of the Spirit transform the moral life into a new interior law "working through charity" (Gal 5:6). We receive the infused aid of the theological virtues of faith, hope and charity to dispose us to live in closer relationship to God.
We may also receive infused virtues, and gifts of the Spirit. The Catechism notes that the first work of the grace of the Holy Spirit is conversion or a call to repentance (CCC 1989). Through a life of prayer spiritual progress "tends toward ever more intimate union with Christ" (CCC 2014).
Can we take up the aspiration, "Lord, I want to see"? Saint Thérèse of Lisieux wrote, "The good God never gives desires that he cannot fulfill." She says this is because God put that desire there in the first place. St Thérèse says the aspiration itself is a sign that God is disposing us to receive his gifts: "He makes us desire, then grants our desires."
Deacon Scott McKellar is pastoral associate at St. Therese Parish, North.
Daily Scripture Readings
For complete daily Scripture texts, click here: http://www.usccb.org
Monday, October 29
Ephesians 4:32–5:8
Psalms 1:1-2, 3, 4 & 6
Luke 13:10-17
Tuesday, October 30
Ephesians 5:21-33
Psalms 128:1-2, 3, 4-5
Luke 13:18-21
Wednesday, October 31
Ephesians 6:1-9
Psalms 145:10-11, 12-13ab, 13cd-14
Luke 13:22-30
Solemnity of All Saints
Thursday, November 1
Revelation 7:2-4, 9-14
Psalms 24:1bc-2, 3-4ab, 5-6
1 John 3:1-3
Matthew 5:1-12a
All Souls Day
Friday, November 2
Wisdom 3:1-9
Psalms 23:1-3a, 3b-4, 5, 6
Romans 5:5-11
or Romans 6:3-9
John 6:37-40
Saturday, November 3
Philippians 1:18b-26
Psalms 42:2, 3, 5cdef
Luke 14:1, 7-11
Thirty-First Sunday in
Ordinary Time, November 4
Deuteronomy 6:2-6
Psalms 18:2-3, 3-4, 47, 51
Hebrews 7:23-28
Mark 12:28b-34
Monday, November 5
Philippians 2:1-4
Psalms 131:1bcde, 2, 3
Luke 14:12-14
Tuesday, November 6
Philippians 2:5-11
Psalms 22:26b-27, 28-30ab, 30e, 31-32
Luke 14:15-24
Wednesday, November 7
Philippians 2:12-18
Psalms 27:1, 4, 13-14
Luke 14:25-33
Thursday, November 8
Philippians 3:3-8a
Psalms 105:2-3, 4-5, 6-7
Luke 15:1-10
Friday, November 9
Ezekiel 47:1-2, 8-9, 12
Psalms 46:2-3, 5-6, 8-9
1 Corinthians 3:9c-11, 16-17
John 2:13-22
Saturday, November 10
Philippians 4:10-19
Psalms 112:1b-2, 5-6, 8a & 9
Luke 16:9-15
Thirty-Second Sunday in
Ordinary Time, November 11
1 Kings 17:10-16
Psalms 146:7, 8-9, 9-10
Hebrews 9:24-28
Mark 12:38-44
or Mark 12:41-44