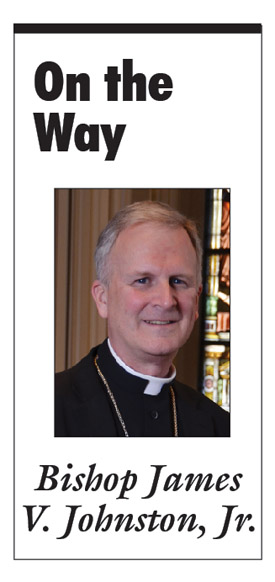 "Into this world, this demented inn, in which there is absolutely no room for Him at all, Christ has come uninvited. But because He cannot be at home in it, because He is out of place in it, and yet He must be in it, His place is with those others for whom there is no room." -Thomas Merton
It is a simple, good-natured thing when we see it. It puts a smile on our faces. When we deliberately make room for another. It can happen on a crowded elevator: "come on, get in, we'll all squeeze together!" It happens around crowded dinner tables in our homes, we add extra chairs and plates to make sure all have a place at the table.
As we begin the beautiful season of Advent this week, one of the themes we might pay special attention to is that of making room. Of course, the Liturgy and the readings from Scripture which we will hear remind us of God's coming—then, now, and in the future. When Christ came then, we are told that "there was no room" for Him (cf. Luke 2:7), and that "the Son of Man has no place to lay his head" (cf. Mt 8:20). Jesus came into a world with no room for him, uninvited. But, for those who made room for him, everything changed. Think of Mary Magdalene, or Zacchaeus, or Peter, or Mary! When we make room, just a bit of room, for Jesus, then we will be changed. So, that is the first suggestion: make more room for Jesus in your life. Perhaps you might give him some more time before or after Mass, or in quiet prayer at home, reading the Gospels. Perhaps you might go to daily Mass during Advent. Find some way to make more room for Him.
Second, make room for others, especially those who get crowded out or overlooked. Begin with the people closest to you who maybe get crowded out because you are busy or distracted or absorbed in other activity. Make room with your time and presence. Likewise, make room for those whom few see, the others who have nowhere to lay their heads. Some of the poor and the homeless often say that the most painful experience of being in their situation is that they feel "invisible" to others. We make room by noticing and by literally adding a place at the table.
While it is overlaid with complexity and politics, we must also reflect on how we make room for the stranger and the immigrant, those persons of good will who seek a better life and an opportunity to earn a living and raise a family in a safer place. Not long after his arrival, Jesus and his family, the Holy Family, experienced this very thing when they fled into Egypt.
To make room for another is something we can all do, with God and with others. Making room for others is a sign of magnanimity, that is, acting with a big heart. It is also a key to the Kingdom of God and to Christmas joy.