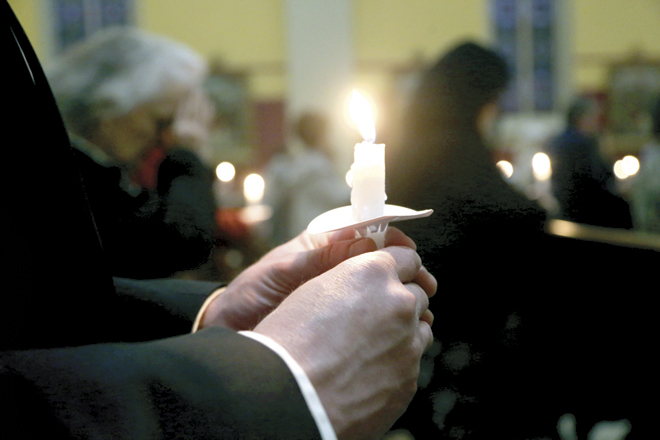 Megan Marley
A healing Mass for parents who have lost a child in miscarriage, infancy or abortion was held on the feast of the Presentation February 2 at St. Mary's parish in Independence. Over 80 people attended the Saturday night Mass in Latin, which began with a candlelit procession into the main church from the side chapel.

This is the fourth year Fr. Matthew Bartulica, pastor of St. Mary's, has held such a Mass, in arrangement with the post-abortion healing group Project Rachel.

In his homily, Bartulica delved deeper into the Gospel story of the Presentation, explaining that Mary also underwent a Jewish ritual purification that day and that the feast traditionally signals the absolute end of the Christmas season. He also spoke on Simeon's example for perseverance in the spiritual life.

"He was the one blessed enough to hold Our Lord in his hands after waiting so many years to see Him after having that promise from God that he would see the Christ Child before his death," Bartulica said.

"Our life in this world is full of many great crosses—many joys that we have, but also many hardships. In enduring all of them, something for us to know is that in the end, the patience that we're called to that Simeon had is what will get us to heaven."

He said those who lose faith in face of hardships miss out on God's mercy and grace.

"They think they'll find better in the things of this world, but in the end we realize that all the pains and hardships that we have—the most precious gift that we have is life and our faith, for by our faith we have hope in eternal life. Without it, everything in this life wouldn't make sense and all our hardships would be useless pains. We know Our Lord heals us, and brings us closer to Him through our pains."

Bartulica concluded by encouraging couples to emulate Mary in presenting her Son and self to God and seeking her intercession.

"As the Lord has been presented in the Temple, so we present ourselves here and all of our children, all of our lost children, knowing that one day we will all be made whole in remaining faithful to him."
For more information on Project Rachel, contact Teresa at projectrachel@diocesekcsj.org.