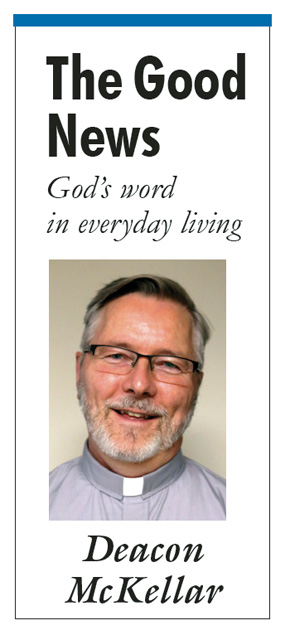 Our annual experience of Psalm Sunday brings back childhood memories. We reenact Jesus' triumphal procession into Jerusalem with crowds waving palm branches, while singing "All glory, laud, and honor, to thee, Redeemer, King, to whom the lips of children made sweet hosannas ring." In the Gospel for Palm Sunday, as well, we dramatically read the account of the passion of Christ.

This liturgy is intended to make us not only think about these events, but to consider the profound implications they have for our own life. Yet, if we have experienced this liturgy year after year, has it become too familiar?

What does Jesus' passion and death mean to me personally? In the words of the contemporary Christian song writer Michael W Smith, "I'll never know how much it cost// To see my sin upon that cross."

The Catechism reminds us; "The Paschal mystery has two aspects: by his death, Christ liberates us from sin; by his Resurrection, he opens for us the way to a new life (CCC 654)."

Through his death and resurrection, Jesus atones for our sins and restores our friendship with God. Jesus freely chose to die for our individual sins and his death was no accident. The Catechism reminds us, "the Church does not hesitate to impute to Christians the gravest responsibility for the torments inflicted upon Jesus" (CCC 598).

Acting out of love, "Jesus freely accepted his Passion and death" (CCC 609). In fact, this is the very purpose of the incarnation. Christ offers a sacrifice that redeems us and "completes and surpasses all other sacrifices" (CCC 614).

The Paschal mystery accomplishes the four purposes of Christ's incarnation. It saves us from sin (Romans 3:24), it reveals God's love to us (Rom 5:7-8), it models true human holiness for us (1 Corinthians 11:1), and makes us partakers in God's divine nature (2 Peter 1:4).

Because each one of us has broken God's covenant, the penalty for our sin is death (Romans 6:23). Since one man can't die for all of humanity – the incarnation is needed to accomplish this sacrifice. Jesus who is fully God and fully man can become the new Adam through which we are joined again to God (Romans 5:12-14).

According to Sacred Scripture, Christ's death becomes a ransom, or a propitiation, or an atonement for our sins (Matthew 20:28; 1 John 4:10; Rom 3:21-27).

But we might ask, how does the death of Christ satisfy for our sins? Stressing the infinite nature of sin and the requirements of divine justice, some have depicted God the Father as an angry judge demanding mere legal satisfaction for each of our individual sins from the sacrifice of God the Son.

St. Thomas Aquinas opposed this view, noting that mere legal satisfaction is not something necessary but something fitting. Although Christ satisfied divine justice, he was in fact even more merciful. Christ freely offered himself, and the satisfaction he offered is both the fruit of divine justice and of mercy.

The most essential part of Christ's sacrifice is his free offering of love and obedience to the Father (CCC 614). For this reason, not only Jesus' passion and death, but his whole life was offered to the Father (CCC 606). Every human action of Christ is an act of love and obedience to the Father (John 4:34; 8:29), and this love and obedience reached its highest manifestation on the Cross (Philippians 2:8, CCC 607).

What mystery then does Christ's offering of love and obedience on the cross reveal to us personally? The cross reveals God's purpose, our problem, and God's power to save us.

What is our purpose? The cross reveals to us that God is love and that he created us for relationship with him.

What is our Problem? Although God created us for relationship, this original relationship was damaged through our sins. As St. Paul notes, "For there is no distinction; all have sinned and are deprived of the glory of God" (Romans 3:22–23).

What does the cross say about God's Power to save us?
Our common problem is not the end of the story. God has a remedy. St. Paul says, "But God proves his love for us in that while we were still sinners Christ died for us" (Romans 5:8).

Jesus passion, death and resurrection are the power of God to bring us near again in the blood of Christ. God's proven love is offered to us as a gift which we can receive and be restored to relationship with him.

If you have been joined to Christ in Baptism (Galatians 3:27, Romans 6:3) and received the gift of living faith (Romans 10:17), then your heart should overflow with joy and thanks to our heavenly Father. Our hearts, however, can be dulled by many distracting things in this world.

Many times Scripture asks us for a response, the joy of a life in the Spirit flows out of our continued "Yes" to God. Let us each examine our hearts and return to his love.

As Catholics, we are always only one confession away from restored relationship with God. If we even begin to glimpse how much it cost to bring us back to God, or "To see my sin upon that cross," then we might ask, is this lifetime long enough to return thanks for the "riches of his grace that he lavished upon us" (Ephesians 1:7-8)?
Deacon Scot McKellar is pastoral associate at St. Therese Parish, North.
For complete daily Scripture texts, click here: http://www.usccb.org
Daily Scripture Readings
Monday, April 15
Isaiah 42:1-7
Psalms 27:1, 2, 3, 13-14
John 12:1-11
Tuesday, April 16
Isaiah 49:1-6
Psalms 71:1-2, 3-4a, 5ab-6ab, 15 & 17
John 13:21-33, 36-38
Wednesday, April 17
Isaiah 50:4-9a
Psalms 69:8-10, 21-22, 31 & 33-34
Matthew 26:14-25
Holy Thursday, April 18
Exodus 12:1-8, 11-14
Psalms 116:12-13, 15-16bc, 17-18
1 Corinthians 11:23-26
John 13:1-15
Good Friday, April 19
Isaiah 52:13—53:12
Psalms 31:2, 6, 12-13, 15-16, 17, 25
Hebrews 4:14-16; 5:7-9
John 18:1—19:42
Easter Vigil, Saturday, April 20
Genesis 1:1—2:2 or Genesis 1:1, 26-31a
Psalms 104:1-2, 5-6, 10, 12, 13-14, 24, 35
Reading 2 Genesis 22:1-18
Psalms 16:5, 8, 9-10, 11
Reading 3 Exodus 14:15—15:1
Exodus 15:1-2, 3-4, 5-6, 17-18
Reading 4 Isaiah 54:5-14
Psalms 30:2, 4, 5-6, 11-12, 13
Reading 5 Isaiah 55:1-11
Isaiah 12:2-3, 4, 5-6
Reading 6 Baruch 3:9-15, 32c4:4
Psalms 19:8, 9, 10, 11
Reading 7 Ezekiel 36:16-17a, 18-28
Psalms 42:3, 5; 43:3, 4
Romans 6:3-11
Luke 24:1-12
Easter Sunday, April 21
Acts 10:34a, 37-43
Psalms 118:1-2, 16-17, 22-23.
Colossians 3:1-4
John 20:1-9
Monday, April 22
Acts 2:14, 22-33
Psalms 16:1-2a & 5, 7-8, 9-10, 11
Matthew 28:8-15
Tuesday, April 23
Acts 2:36-41
Psalms 33:4-5, 18-19, 20 & 22
John 20:11-18
Wednesday, April 24
Acts 3:1-10
Psalms 105:1-2, 3-4, 6-7, 8-9
Luke 24:13-35
Thursday, April 25
Acts 3:11-26
Psalms 8:2ab & 5, 6-7, 8-9
Luke 24:35-48
Friday, April 26
Acts 4:1-12
Psalms 118:1-2 & 4, 22-24, 25-27A
John 21:1-14
Saturday, April 27
Acts 4:13-21
Psalms 118:1 & 14-15ab, 16-18, 19-21
Mark 16:9-15
Second Sunday of Easter or Divine Mercy Sunday, April 28
Acts 5:12-16
Psalms 118:2-4, 13-15, 22-2
Revelation 1:9-11a, 12-13, 17-19
John 20:19-31