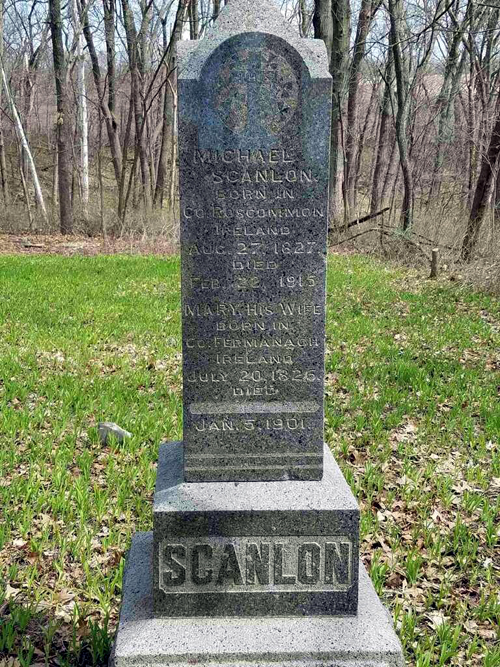 By Marty Denzer
Catholic Key Associate Editor

EASTON — Bordered by a cornfield, on the edge of a large, heavily forested hollow about a mile northeast of Easton, lies a small graveyard sheltered by a canopy of several varieties of tall trees, with headstones dating back to 1849. A number of the area's early pioneers — Germans, Irish and Polish men and women — are buried there. Many of the headstones are at least partially legible, even if they have toppled over, are cracked or broken.

Local historian Tim Wiedmaier discovered the cemetery in 2008 while researching his family's history. Several of his great-great ancestors rest there, and he found ancestors of other residents of Easton and neighboring towns at rest in the graveyard. Wanting to learn more, he reached out to St. Joseph's Church in Easton, Holy Trinity Church in Weston, the archives of the Diocese of Kansas City-St. Joseph, and to friends and family. Wiedmaier was able to obtain records of baptisms, marriages, families, deaths and burials, although some records were contradictory. The spelling of names depended on the education and writing skills of the recorder.

Getting some friends, especially Michael Fisher and Mary Bray, interested in the cemetery, brought volunteers to the site to help Wiedmaier begin cleaning up the abandoned graveyard. Armed with a metal stave, Wiedmaier walked the cemetery acreage over and over, impaling the earth with the stave and listening for the sound of marble, granite or stone under the dirt. Some headstones were partially visible, or lightly covered with soil, others were buried deeper. Over the years, what has been discovered, learned and in a pinch, guessed at, is a slice of history, with family stories and historical tidbits bringing the mid-19th through early 20th centuries to life. Wiedmaier has compiled all he's learned up to now into a book, Old Kessler Cemetery, Easton, Missouri, subtitled, Church of the Holy Savior, Jesus Christ and the Kessler Settlement, German Congregation.

The book begins with a photograph of a handwritten "indenture," dated Sept. 22, 1847, which details the transaction between Joseph Kesler, his wife Maria Louisa Kesler, and Archbishop Peter Richard Kenrick of St. Louis in which, for the consideration of $1, paid by Archbishop Kenrick, the Keslers "granted, sold, assigned and made over to the archbishop a five acre tract 100 feet from their home, to be used for a Roman Catholic Church, for worship and other Catholic purposes." Archbishop Kenrick visited the settlement, "celebrating Mass and presiding over confirmations under a large tree with a handsomely decorated altar," according to the 1992 Diocesan History, This Far By Faith. A log cabin church, named Holy Savior Catholic Church was built that same year and a cemetery established in a nearby hollow, Beck Hollow.

The first settler to the area, Sebastian Kessler, Sr., settled in Marion Township, Buchanan County in 1838. He and Scholastica, the daughter of Alois and Agnes Kotz, were married in Hurlingen, Germany. According to This Far by Faith, the Kesslers settled first in Ohio and in 1839, traveled to St. Louis and then upriver on a riverboat to Liberty. Obtaining oxen and wagons, they continued north to Marion Township and settled there on a government land grant. They named the town New Hurlingen.

Sebastian Sr. died in 1845 and was buried in the Bowen Cemetery, Easton. Scholastica survived him by 24 years and was buried in Kessler Cemetery.

The first baptism at Holy Savior Catholic Church took place on Dec. 19, 1847. William Henry Kesler, son of Fidelis Kesler and Anna Maria Zug Kesler, was born Dec. 11, 1847. His sponsors were Leopold Siela and Magdalena Kesler. Fifteen other baptisms were celebrated between 1848 and 1852. It is supposed that the log cabin church burned down sometime during the later 1860s. A 1889 letter from Bernice Zug to Kevin Fisher mentioned that many people from the region rode horseback to attend Mass at Holy Savior Church in Kessler's Settlement, when Jesuit Father Francis Rutkowski came monthly from Weston to celebrate Mass. She added that "They carried guns to fight off bushwhackers in the Civil War days." Although the date of the church fire is unknown, St. Joseph's Church was built in 1870, replacing it.

From the time of the first burial in Kessler's Cemetery — Joseph Kessler in 1849 —74 interments took place; Joseph Gerstner was the last burial, in 1923. Three markers honor Civil War soldiers, including Wunibold Kessler, Daniel Kessler and Jacob Wiedmaier. It is possible that Wunibold was wounded in the Battle of Wilson's Creek, Aug. 10, 1861, because he died just four months later. Jacob, a veteran of the Battle of Shiloh, became ill and died shortly after the battle in Corinth, MS. Daniel, of the 12th Missouri Cavalry, died in 1877.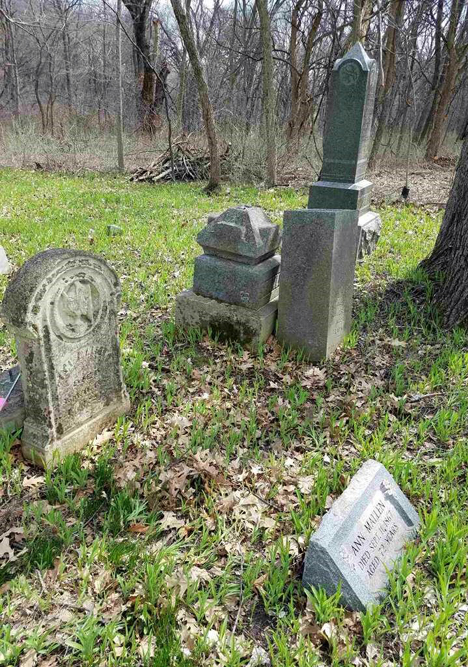 Around 1925, the road connecting the cemetery with the public road was closed and abandoned. Some of the graves were dug up and the deceased moved to other cemeteries in Easton or Hirlingen. Kessler's Cemetery, although diocesan records indicate was rededicated in 2003, was never provided the upkeep and care seen in cemeteries today. Between 1925 and recently, the cemetery became overgrown, headstones grew difficult to read and it was all but forgotten.

Today, a group of dedicated volunteers spend weekends (when the weather is decent) clearing the cemetery grounds of weeds, brambles and tree branches. Small areas of the grounds have been cleared by controlled burns to rid them of excess overgrowth.

About 30 different native varieties of trees have been identified, including hackberry and hedge trees. Lilies, first planted in the 1800s, are sprouting over much of the cemetery.

Gentle cleaning has been applied to intact headstones and the few granite headstones look brand new. Fisher and Wiedmaier said they are hoping to raise enough funds to restore the remaining headstones. They have selected a restoration company and, to ensure the work would be completed by year's end, it will have to be scheduled by April 30.

The men and other volunteers dream of the cemetery being restored, cleaned and filled with lilies. They hope for a possible access road to the cemetery to enable its perpetual care. They would love to see descendants of those buried in Kessler's Cemetery visit it on warm summer evenings and enjoy a picnic while tidying their ancestor's gravesite, just as families did in the nineteenth century. But all those dreams take money.
  
Phase 2 (tombstone repairs) of the effort will require financial support. The probable cost estimate for the repairs is $9,000.  Many in the diocese are descendants of those buried at the Kessler Cemetery, including Gerstner, Siela, Wunderlin, Payne, Kessler, Beck, Scanlon, Mallon, Carmicheal, Digeman, Kendziora, Roskowski, and Wiedmaier. Please check out the Facebook page: www.facebook.com/KesslerCemeteryEastonMissouri. To aid in the restoration effort checks can be made out to "St. Joseph Catholic Cemetery; note on memo line "for Kessler Cemetery." Mail to St. Joseph Catholic Cemetery, c/o St. Joseph Catholic Church, P.O. Box 197, Easton, MO 64443.