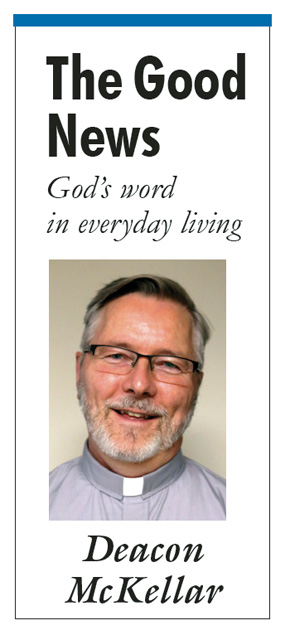 Jesus' words in today's Gospel remind me of something that happened to me while I was living in Europe a number of years ago. I was living in a small village, and I visited a local grocery store. I browsed the aisles, and loaded up my cart with groceries, and then proceeded to the cashier. Everything seemed normal.
There was one person in front of me who was just finishing, so I unloaded all my groceries onto the conveyer belt at the checkout. But to my utter surprise, the cashier finished counting the change for the previous customer and then turned to me and announced, "It's time for my break. I'll see you in 15 minutes" and promptly marched off.
I stood there for a moment in stunned silence, and then loaded up my groceries again in my cart and moved to a different checkout line. Now I can assume that this cashier worked hard and deserved to have this break. It is also very likely that this was the precise time that her break was scheduled. Simply following the rules, however, with complete disregard for the person standing in front of her, was an epic customer service blunder.
In our Gospel, the Pharisees and scribes grumble against Jesus, because he is willing to eat with 'sinners' or those who were irreligious and who appear to not really be trying to observe the details of the Law. While the law is good and is intended to help keep us in relationship with God, and ultimately to lead us to happiness, if we do not keep our focus on people and relationships, it can lead to mere legalism.
The Pharisees and scribes in this Gospel appear to be following the rules for the sake of external appearances before others. In fact the Law has become a point of pride for them. They think of themselves as much better that the uneducated 'sinners' who do not follow the law. They have formed an exclusive clique among themselves. In later Jewish traditions the rabbis forbade someone from associating with the wicked, "even to bring him near to the law."
Jesus' attitude is clearly the opposite of this. With complete disregard for what others think, Jesus was deliberately friendly to religiously undesirable people. He did this with the express desire of bringing them closer to God. Perhaps we should point out that while Jesus accepts everyone just as they are, this is not the same as saying that Jesus desires that they remain as they are. He is clearly calling them to conversion.
Each of the three parables is about the joy of finding what is lost. The fact that the coin or sheep is lost does not remove it from God's care, in fact, if anything the lost are prioritized in God's heart. In the end though, it is clearly not okay that the coin or sheep are lost, they must be found. The very act of finding leads to personal, communal and even heavenly joy (15:6, 9-10, 24, 32).
In our modern world there are two opposing rocks which can shipwreck our faith (CCC 2092). One is a kind of cheap grace that seeks mercy without conversion. We are not merely accepting the lost sheep as if it is okay to be lost and remain in that state, we are seeking to find and save the lost so that they may be restored to relationship with the fold.
In the parable of the prodigal son, the lost young man "came to himself" and realized the error of his ways, and returned to his father in repentance saying "Father, I have sinned against heaven and before you" (Luke 15:18). This is clearly an image of conversion.
The other opposing rock is seen in the attitude of the Pharisee and scribes, but also in the older brother in the parable of the prodigal son. Here we begin to think that we have saved ourselves through our own works of righteousness. The sight of sinners coming to repentance causes these hearts to be jealous and to feel cheated. The elder brother complains in anger to the father, "Behold, these many years I have served you, and I never disobeyed your command" (Luke 15:29). Yet was it this son's obedience that earned him the title of the elder son of his father? Clearly even his sonship is a gift from the father as he is reminded, "Son, you are always with me, and all that is mine is yours" (Luke 15:31).
As Jesus will remind his disciples a few chapters later, "the Son of man came to seek and to save the lost" (Luke 19:10). As St. Paul reminds us, God "desires all men and women to be saved and to come to the knowledge of the truth" (1 Timothy 2:4).
Yet in order for this desire to bear fruit, we must imitate our Lord by seeking the lost and becoming a friend of sinners. Like our Heavenly Father we need to prioritize finding the lost. In a certain sense the activity of befriending, seeking and finding is like the idea of customer service in the business world.
It is no secret that the Church in our nation is in a serious demographic decline. This decline is most evident among our youth and young adults. While there is clearly no 'silver bullet' or 'one answer' solution, I have noticed that exit interviews with this age group have often highlighted their discontent with expressions of both the inauthentic cheap grace Gospel and the ugliness of religious team sport legalism.
What would it look like if we imitated Jesus and genuinely befriended the Tik Tok, VSCO girls generation? If you have no idea what I am talking about, what does that say about the bridges of relationship you have built with our youth? Will we chose to eat at their table?
Deacon Scott McKellar is Pastoral Associate at St. Therese Parish, North.
For complete daily Scripture texts, click here: http://www.usccb.org
Daily Scripture Readings
Monday, September 16
1 Timothy 2:1-8
Psalms 28:2, 7, 8-9
Luke 7:1-10
Tuesday, September 17
1 Timothy 3:1-13
Psalms 101:1b-2ab, 2cd-3ab, 5, 6
Luke 7:11-17
Wednesday, September 18
1 Timothy 3:14-16
Psalms 111:1-2, 3-4, 5-6
Luke 7:31-35
Thursday, September 19
1 Timothy 4:12-16
Psalms 111:7-8, 9, 10
Luke 7:36-50
Friday, September 20
1 Timothy 6:2c-12
Psalms 49:6-7, 8-10, 17-18, 19-20
Luke 8:1-3
Saturday, September 21
Ephesians 4:1-7, 11-13
Psalms 19:2-3, 4-5
Matthew 9:9-13
Twenty-fifth Sunday in Ordinary Time, September 22
Amos 8:4-7
Psalms 113:1-2, 4-6, 7-8
1 Timothy 2:1-8
Luke 16:1-13
or Luke 16:10-13
Monday, September 23
Ezra 1:1-6
Psalms 126:1b-2ab, 2cd-3, 4-5, 6
Luke 8:16-18
Tuesday, September 24
Ezra 6:7-8, 12b, 14-20
Psalms 122:1-2, 3-4ab, 4cd-5
Luke 8:19-21
Wednesday, September 25
Ezra 9:5-9
Tobit 13:2, 3-4a, 4befghn, 7-8
Luke 9:1-6
Thursday, September 26
Haggai 1:1-8
Psalms 149:1b-2, 3-4, 5-6a & 9b
Luke 9:7-9
Friday, September 27
Haggai 2:1-9
Psalms 43:1, 2, 3, 4
Luke 9:18-22
Saturday, September 28
Zecharaiah 2:5-9, 14-15a
Jeremiah 31:10, 11-12ab, 13
Luke 9:43b-45
Twenty-sixth Sunday in Ordinary Time, September 29
Amos 6:1a, 4-7
Psalms 146:7, 8-9, 9-10
1 Timothy 6:11-16
Luke 16:19-31