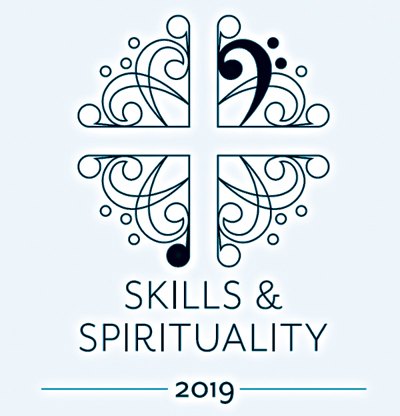 By Marty Denzer
Catholic Key Associate Editor
KANSAS CITY – Skills and Spirituality, United By Faith a day of prayer, workshops, music making and relationship building, will be held at Nativity of Mary Parish in Independence, from 7:45 a.m. – 2 p.m., Sept. 28. The bi-annual event is designed for clergy, cantors, organists, choir members, Hispanic music ministry, music directors and instrumentalists and, new in 2019, a Youth Track for students in grades 9 – 12. Co-sponsored by the Office of Divine Worship of the Diocese of Kansas City-St. Joseph, the Office of Liturgy and Sacramental Life of the Archdiocese of Kansas City in Kansas, and the local chapters of the National Association of Pastoral Musicians, the day will feature presentations, breakout sessions for both adults and youth and opportunities for collaboration between the two dioceses' music ministers.
An 8-member steering committee, made up of members from both dioceses, planned the event.
Dr. Mario Pearson, diocesan Director of Music for Kansas City-St. Joseph and coordinator of the Skills and Spirituality workshop, said its history dates back to the late 1990s, when Steve Obarski, then director of the diocesan Office of Worship, established the event to not only assist parish musicians technically, but to emphasize the importance of spirituality in ministry. It was held regularly until 2007, when it went on hiatus.
Dr. Pearson was appointed diocesan music director in 2015, and "Skills and Spirituality was one of the programs I wanted to restart," he said. In his role as a parish musician for the Cathedral of the Immaculate Conception, he had noticed how far apart the diocesan and archdiocesan music programs had grown. He believed that building and rekindling strong relationships between the two dioceses was greatly needed.
"Music Ministry is a very important tradition in our Church," he said. "I always refer to Church documents to describe its importance. 'The musical tradition of the universal Church is a treasure of inestimable value, greater even than that of any other art. The main reason for this pre-eminence is that, as a combination of sacred music and words, it forms a necessary or integral part of solemn liturgy.' (Catechism of the Catholic Church, no. 1156) … 'The composition and singing of inspired psalms, often accompanied by musical instruments, were already closely linked to the liturgical celebrations of the Old Covenant. The Church continues and develops this tradition.' (Sacrosanctum Concilium, no. 112) … "Address . . . one another in psalms and hymns and spiritual songs, singing and making melody to the Lord with all your heart. … He who sings prays twice." (Eph 5:19; St. Augustine, En. in Ps. 72,1:PL 36,914; cf. Col 3:16).
A decade after the last Skills and Spirituality event, the 2017 workshop was held at St. Therese Parish in Parkville, the same place as the 2007 event, which he said signaled continuity.
Dr. Pearson created a website, https://kcliturgy.wixsite.com/sands2019, with registration and workshops tabs so interested music ministers and high school youth can register and learn more about the presentations, breakout sessions and presenters.
The presenters include Matt Reichert and Zach Stachowski, co-directors of the One Call Institute, a week-long program devoted to engaging encouraging and supporting young people to serve as musicians and leaders in their perishes. One Call Institute is held in the summer at St. Joh's University in Collegeville, Minn. Benedictine Brother David Wilding of Conception Abbey will lead a workshop on chant in the ordinary form; Michael Emmerich Associate Music Director and rural music minister for the Archdiocese of Omaha, will lead a workshop on music making in small and rural choirs exploring resources and concepts for successful liturgical music. Michael Podrebarac of the Kansas City, Kansas archdiocesan Office of Divine Worship will do a presentation on "Our Vocation as Choir Ministers and ensembles."
Maria Milazzo, Director of Music for Nativity of Mary Parish, a member of the Cathedral Choir and cantor, who also served on the Skills and Spirituality steering committee, said she was excited about the high school Youth Track especially. The track will consist of two sessions focusing on the fundamentals of music ministry and cantoring. Vocalists and instrumentalists at all levels are encouraged to attend especially those who may never have participated in music ministry but would like to know how it works and how their voice can be heard.
She said the retreat experience of the day will be a breath of fresh air from the stress of day-to-day positions.
"I'm hoping to get a lot out of the day," she added, "and leave with a sense of renewal – something for all of us attending to take home to parish ministries and for ourselves fellowship and rural involvement."
Dr. Pearson said, "September is the time when parish choirs and music restart full steam after the summer break. This is a great time to enhance and reinforce the role of ministers. The opportunity for growth, collaboration and support is key to continue building our parish ministry programs. Our faith is relational and, along with the theme 'United by Faith,' we have an opportunity to gain more insights into our roles as servant ministers."
He encourages all diocesan parish music programs and high school youth from public, parish and parochial schools to attend. Dr. Pearson hopes to goal is to have more than 200 people attend the day, for learning, prayer, fellowship and spiritual growth.
How to register
Preregistration is $20 for adults and $10 for high school students and is due Sept. 13. Registration for walk-ins is $25 for adults and $10/high school students. Breakfast and lunch are included. To register, visit kcliturgy.wixsite.com/sands2019 to register.