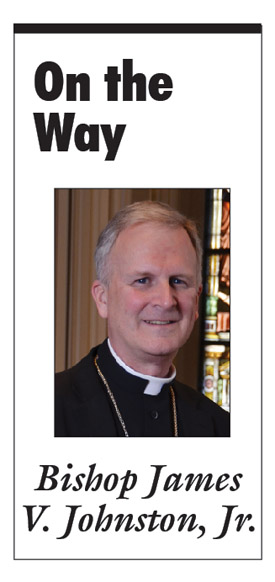 "My entire attention is on the finish line as I run toward the prize to which God calls me—life on high in Christ Jesus." Philippians 3:14
With the advent of devices like Fitbit, the Apple watch, and other gadgets, it has become commonplace for people to measure daily activity such as how many steps one has taken in a day. All of this helps one get enough physical activity in order to maintain one's health. I often hear people exclaim with satisfaction and accomplishment, "I got my steps in today!"
A similar mindset is needed for maintaining a spiritual life. Deliberate attention is also required over the course of each day, a week, and a lifetime to meet small goals which over time, accumulate into something bigger. Very often, I have noticed that many people who stop living and practicing their Catholic faith in small ways become totally inactive over time. It was not the result of a major decision, but a gradual abandonment of the small things that keep one connected to God and healthy.
It should not be surprising then that the Bible is full of admonitions to discipline and perseverance. Spiritually speaking, the Bible tells us to "get our steps in." Among the many examples in both the Old and New Testaments, is this urging of Saint Paul to the Philippians in a reading that is found in this past week's Liturgy of the Hours: "Brothers, I do not think of myself as having reached the finish line. I give no thought to what lies behind but push on to what lies ahead. My entire attention is on the finish line as I run toward the prize to which God calls me—life on high in Christ Jesus. All of us who are spiritually mature must have this attitude… It is important that we continue on our course, no matter what stage we have reached" (Phil 3:13-16).
To my knowledge there is no app on a smart watch to keep track of spiritual steps. We must attend to that on our own. And it's not so much a number that we have to get in each day as much as fidelity to something. Prayer and small acts of devotion are important small steps, mostly for our good, not God's. God delights in our expressions of love and faith because we are deepening our union with Him and the life of grace that He offers.
Our prayers and acts of devotion will often fail to fill us with inspiring feelings. When we stay faithful to them during these times it is all the more important. There will be times when we don't feel like getting our spiritual steps in, which is why it is helpful to have friends to hold us accountable. Just as many have friends to walk, run, or work out with in the gym, we need companions to keep us faithful in the spiritual life too.
If you don't have a plan on how to get your daily spiritual steps in, get one. Write it down and find a way to remind yourself daily. If you get your steps in each day, like Saint Paul and countless Christians before us, you will reach the finish line and the prize that God is calling us to as well.