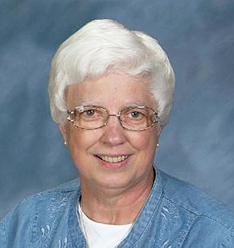 Sr. Elaine Margaret Besand, CSJ was born Mildred Marie Besand June 27, 1941 in Festus, Missouri, the firstborn of Valle Francis & Thelma Bohnert Besand. Five years later another baby girl joined the family: Elaine. The two sisters were very close, and Elaine missed her big sister when Mildred boarded at Ursuline Academy for high school.

After high school Mildred moved to St. Louis, living at McCauley Hall run by the Sisters of Mercy. She became an active member of the Cathedral Parish and asked one of the priests to be her spiritual director. When Mildred talked with him about a religious vocation, he recommended the Sisters of St. Joseph, the community who staffed the school.
The big day came on September 15, 1962 when she kissed her parents and little sister goodbye to enter the community at Carondelet—11 months later she returned to the Cathedral to receive the habit and name Sr. Elaine Margaret, and eventually made final vows August 1, 1970.
Sr. Elaine was not interested in being a teacher as she was deaf and preferred doing office or clerical work. In 1967 she was missioned to St. Joseph Hospital in Hancock, Michigan where she did clerical work for the nursing staff. A year later she went to Avila College/University in Kansas City, where she did clerical work and was Bookstore Assistant. She enjoyed her job at Avila and relating to the students who came in and out of the bookstore all the time, always welcoming them and willing to listen to their accounts of success or challenge.
After almost 40 years of service in the bookstore, she decided she wanted to use her time and talents doing something she loved to do…SEW. She was an excellent seamstress and supported herself in that occupation. The senior sisters at Avila loved Elaine and appreciated the time she gave to them by making repairs on their clothing; sewing name tags on their clothes and driving for them.
On September 15, 2015, Sr. Elaine moved into Gleason Hall of the Nazareth Living Center in St. Louis, bringing two sewing machines to continue her passion. Her sister Elaine was a daily visitor and companion, and they often went out to eat together.
On the evening of September 28, 2019 God called Elaine home, blessed with a peaceful death. We are happy that she is with the God she served so lovingly.